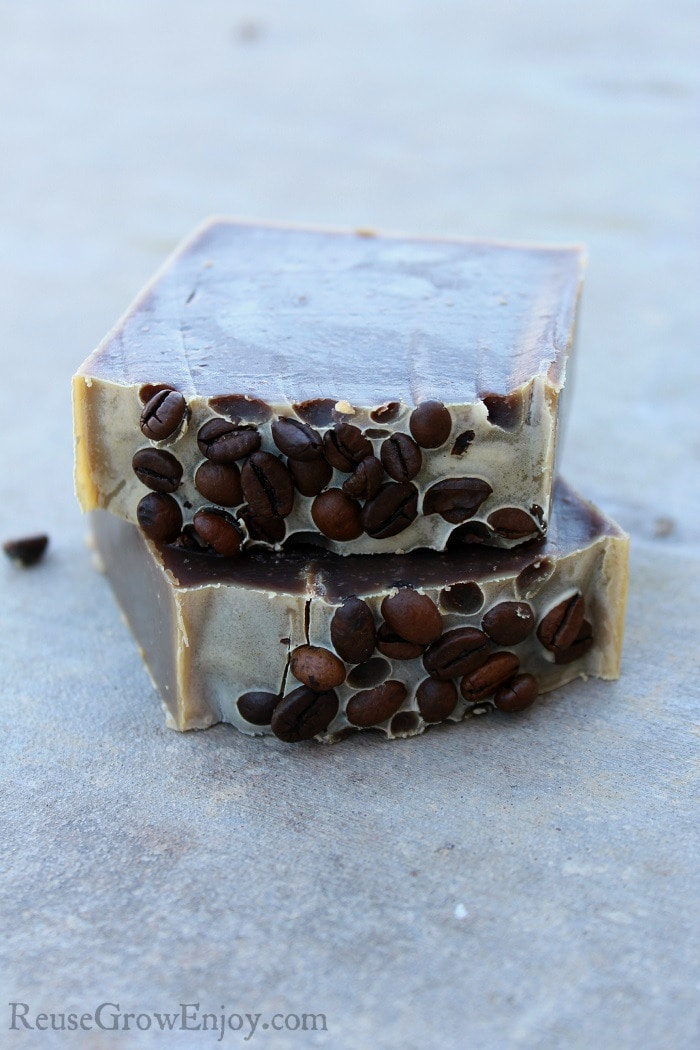 DIY Cold Processed Coffee Soap
If you are a coffee lover or know someone that is, I have just the soap for you! I am going to show you how to make this DIY cold processed coffee soap right at home!
Not only does this have coffee in it, it also has a hint of cocoa too! So it is a win-win for coffee and chocolate lovers.
Now you can have your morning cup of coffee and shower with it too! Great way to wake up the body and mind. This coffee soap is loaded with lots of other ingredients that are also very healthy for your skin such as coconut oil, shea butter, avocado oil and more!
To make this soap, other then the ingredients, you will also need to have a soap mold. They sell them at craft stores or this one here on Amazon works really well and is low priced.
Soap ingredients can be changed, but every time you do, you will want to run the recipe through the lye calculator like this one here.
Coffee Soap Ingredients Needed:
11 oz extra virgin olive oil (gives it hardness)
9 oz coconut oil (gives it lather)
5 oz shea butter (hardness)
5 oz rice bran oil (moisturizing)
4 oz avocado oil (moisturizing)
2 oz castor oil (gives it lather)
11.88 oz freshly brewed double strength coffee, COOLED
4.90 oz lye (like this here)
2 tsp cocoa powder
Whole coffee beans, for the top (optional, for look only)
Materials Needed:
NOTE: all of the items that will be touching the lye mix, they need to be something you do not use with food! Mark them for soap making only.
Safety Gear Needed:
Long Sleeves
Goggles
Gloves
Ventilation -(such as making near an open window)
The first thing you want to do is to put your safety gear on. It is better to be safe than sorry. Make sure no one else will be walking or running through the area while you are working.
Then get all your supplies together and all the ingredients measured out and set them aside.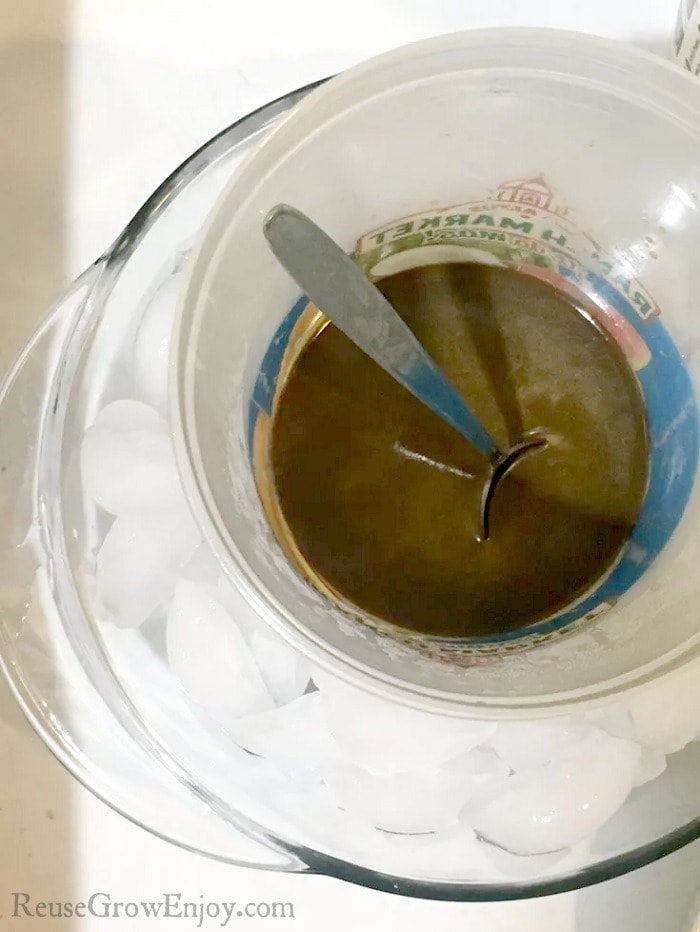 Next, pour the coffee into the plastic pitcher or bowl. Then set it inside another bowl filled with ice.  You need to do this because when you mix the lye into the coffee, the temperature will rise fast. The ice will help to cool it back down. The coffee MUST be cooled before mixing in the lye as you can never mix hot liquid with lye.
Now you need to slowly add the pre-measured lye into the coffee a little at a time. Stir slowly with a metal spoon as you continue to add little bits of lye. Make sure it is fully mixed in. Yes, this step will smell horrible!
Allow it to cool to 120-130 degrees before removing the mixture from the ice bath. Set aside.
Melting Oils, Mixing & Mold Pouring:
Next, you need to melt the shea & coconut oil on the stove until they are liquid. Then add in the rest of the oils. You want this mix to be about 115-120 degrees F.
Now you need to SLOWLY add the lye coffee mix into the melted oils. Use the immersion blender to mix it together. Be sure to only pulse the blender and take 15-20 second breaks. If you run it continually it will overheat.
After it is fully mixed, you can mix in the cocoa powder using the immersion blender.
When the batter becomes thick (this is called trace) quickly pour into your mold. Use the metal spoon to evenly distribute and swirl the top if you would like. Then you can sprinkle the top with coffee beans (optional) just be sure to lightly push them part the way in so they stick.
You need to insulate the mold well by placing on a heating pad (if need be) or you can wrap the mold in towels. Set it in an area where it will not be disturbed. You can use a piece of cardboard to make an arch over the top of the mold to insulate the top. It needs to sit like this undisturbed, for 24 hours.
After setting for a full 24 hours, carefully remove the soap from the mold and cut into bars. Then the soap needs to cure for 4-6 weeks before you can use.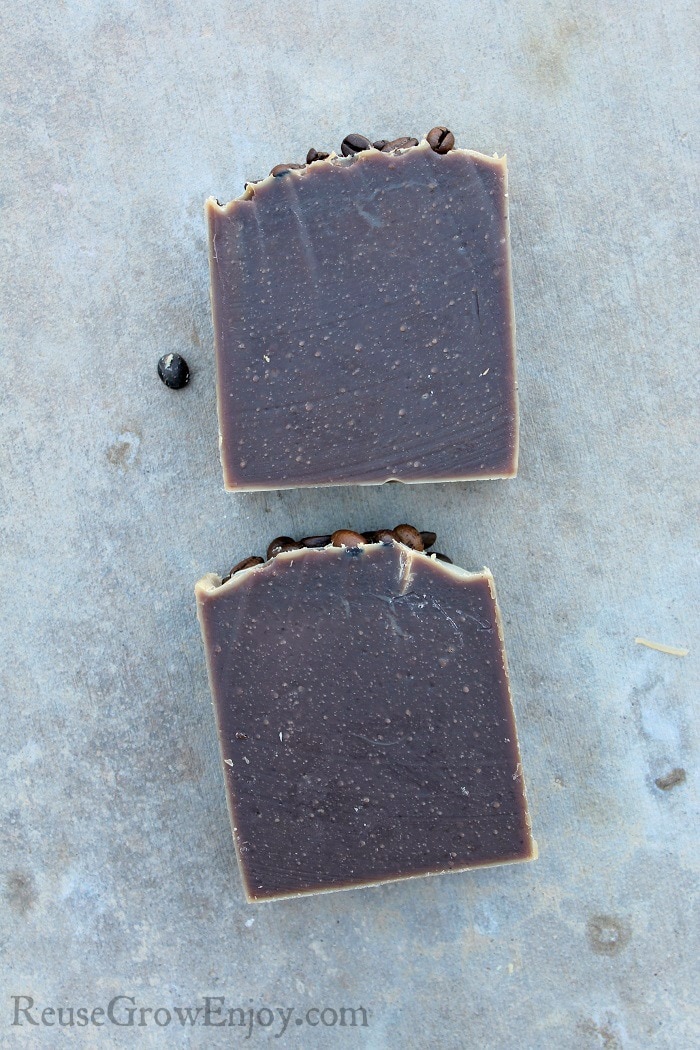 If you are looking for more soap recipes that are even easier, here are a few to check out.