We all hate to toss our favorite jeans when they no longer fit or are worn out. Well, you don't have to! You can make this DIY upcycled jean pouch!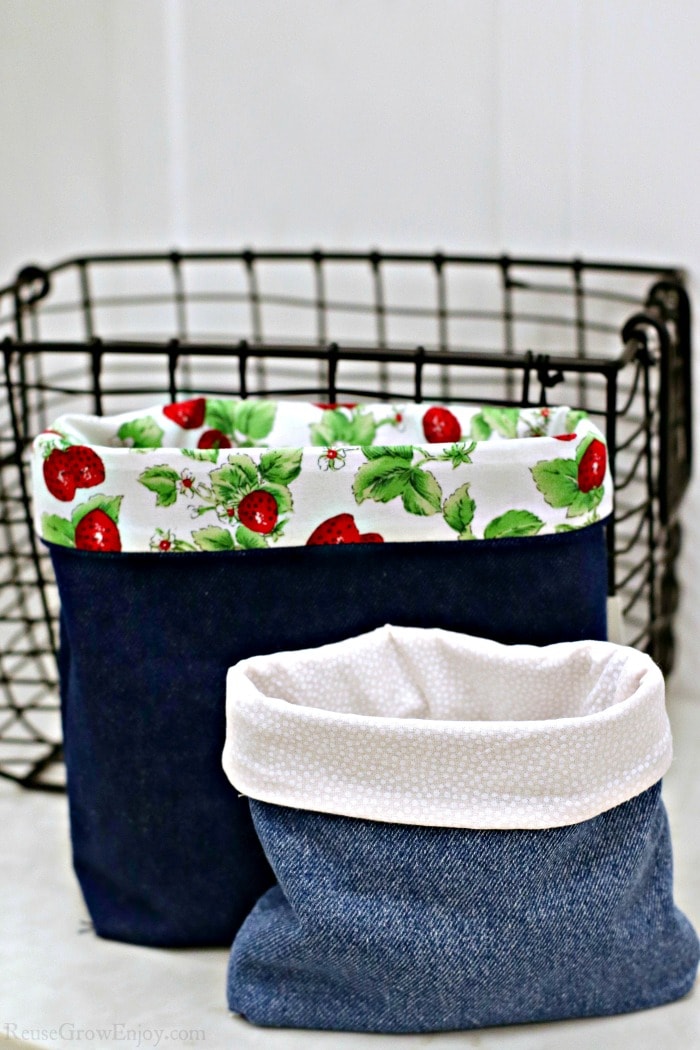 DIY Upcycled Jean Pouch
This is a great way to use jeans you can no longer pass down. Plus this little jean pouch is so handy around the house. It can be used to hold makeup brushes, kitchen utensils, craft supplies, dry flowers and just about anything else you would use a small bin for.
These could also be made from other scrap fabric or clothing. Such as old shirts, skirts, sheets and so on.
If you like this fabric upcycle idea here are a few others to check out too.
Supplies Needed:
How To Make This Pouch:
The first thing you need to do is figure out the size of the pouch you want before you cut the fabric. We made ones that measured 8×8, 9×9 and 13×13.
After you figure what size you will be making you will need to cut the fabric. For this step by step, we are making a 13×13. So you would need to cut (2) 13×13 pieces of the outer denim fabric, (2) 13×13 pieces of the lining and (4) 13×13 pieces of the interfacing.
Next, you will iron your interfacing to the wrong side of both pieces of your outer denim fabric. Then iron interfacing to both wrong sides of the pieces of the lining.


Now, with right sides facing, clip or pin both sides and the bottom of the outer denim fabric and the lining.


Sew along the sides and the bottom of your outer denim squares and lining using a 1/4" seam allowance. Then press your side seams open.
Next, make a box corner for both the outer denim and the lining. To make a box corner see the picture above.
Then turn the denim pouch inside out. Also, turn the lining right side out.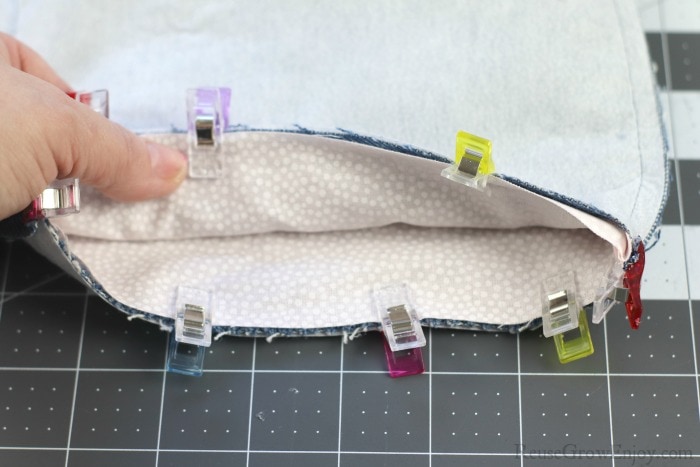 Place the denim and the lining, so that right sides are together. Match up the side seams as best as you can and then clip or pin into place.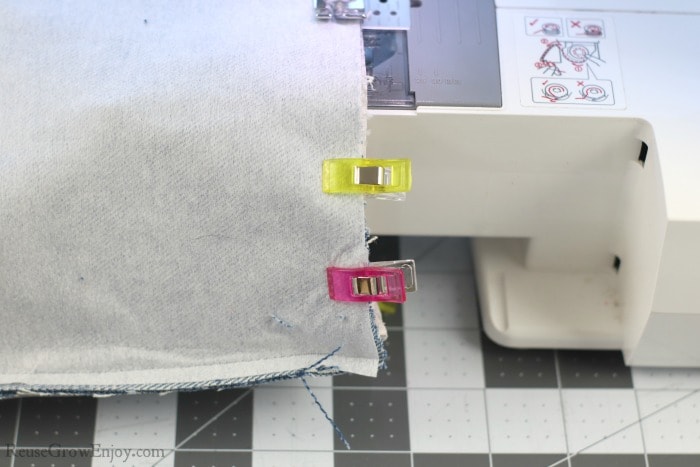 Then sew them together by going around the top. Leave a 4-5" opening for turning.


Now pull the lining through the opening. That will make the denim outer fabric and the lining so that it is showing the right side of the fabric.
Tuck the lining into the denim. Then using the iron press around the opening so it is nice and flat looking.

The last step is to stitch your opening closed. Then simply fold over the lining and use the pouch how you wish.