Have you ever tried to grow peppers? If not, you're missing out! Whether you prefer your peppers sweet or spicy, you can very easily grow a great pepper crop in your backyard, or in a container garden!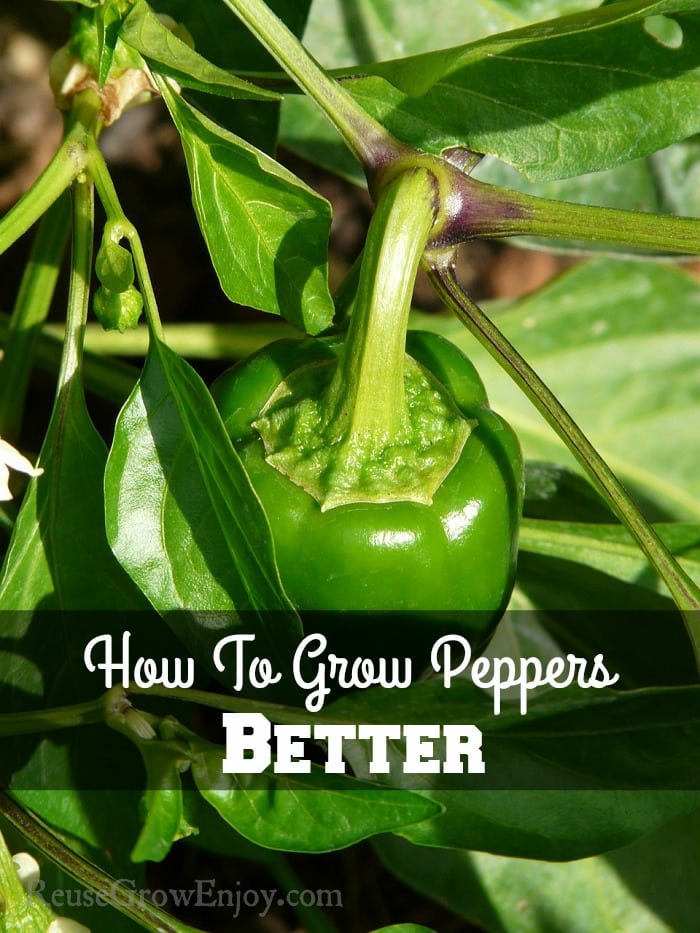 How To Grow Peppers Better
This is a great way to save money at the grocery store, especially if you prefer to buy organic produce (a single organic bell pepper can cost $2 or more!). Save money and grow your own delicious peppers with these 6 Tips to Help You Grow Peppers Better!
If you are looking for other growing tips be sure to check out these posts.
1. Pinch Flowers
If you really want to grow better peppers, you'll have to do something a little unpleasant- you'll have to pinch off the first flower blossoms your plants produce.
While you may feel bad about it, don't worry, you're actually just helping the plants! Pinching off the blossoms makes the peppers put more of their energy into growing bigger.
When they produce blossoms later in the season you can leave them alone. You'll find that they actually produce bigger and better peppers this way, and probably more peppers than if you'd kept the first blossoms!
2. Provide Support
You wouldn't think about giving a tomato cage to a plant that's not a tomato, but peppers actually can use the support, too.
That's because when they start growing fruit, they can quickly become dragged down by their own weight. To prevent that, give them a stake or a smaller sized tomato cage to help keep them upright.
3. Plant Deep and Apart
Like tomato plants, peppers will grow roots on their stems if you bury them deep enough. This is a great trick to make them grow stronger root systems!
Try to plant your peppers so that the lowest set of leaves is just a bit above the ground. Also make sure to plant your peppers with enough space between them, taking into consideration how much width they'll gain when they grow.
Planting them about 12 to 20 inches apart is usually sufficient.
4. Provide the Right Soil
Peppers like soil that ideally has a pH of 6.2 to 7.0 (slightly acidic to neutral). They also need soil that holds some moisture, yet drains well.
To provide all of this and to grow peppers better, plant your peppers in compost and cover their bases with mulch. The compost will help the soil drain slowly, and the mulch will cool the soil while also trapping more water.
5. Don't Water Too Much
Don't drown your peppers! While they like water, they won't do well if there's too much water around their roots.
If you have the proper soil and have mulched your plants, you should really only water your peppers when they begin to wilt.
However, know the difference between a plant that's wilting because it's genuinely thirsty and a plant that's wilting just because it's a really hot day and it's trying to get away from the sun.
To tell the difference, poke the dirt at the base of the plant and see if it feels dry or not.
6. Watch the Temperature
Peppers are somewhat particular as far as ideal growing temperature goes. If you hope to grow peppers better, watch out for days warmer than 90 degrees and nights cooler than 60 degrees.
Both extremes aren't conducive to good fruit formation. If you're running out of the appropriate growing season for your peppers, you can try to shade or warm them to help them grow fruit while temperatures are still semi-decent.
Or you can always grow them in a pot inside. If you are wondering how to grow inside, check out my post on How to Successfully Grow Peppers Indoors.
Have you ever grown peppers before?