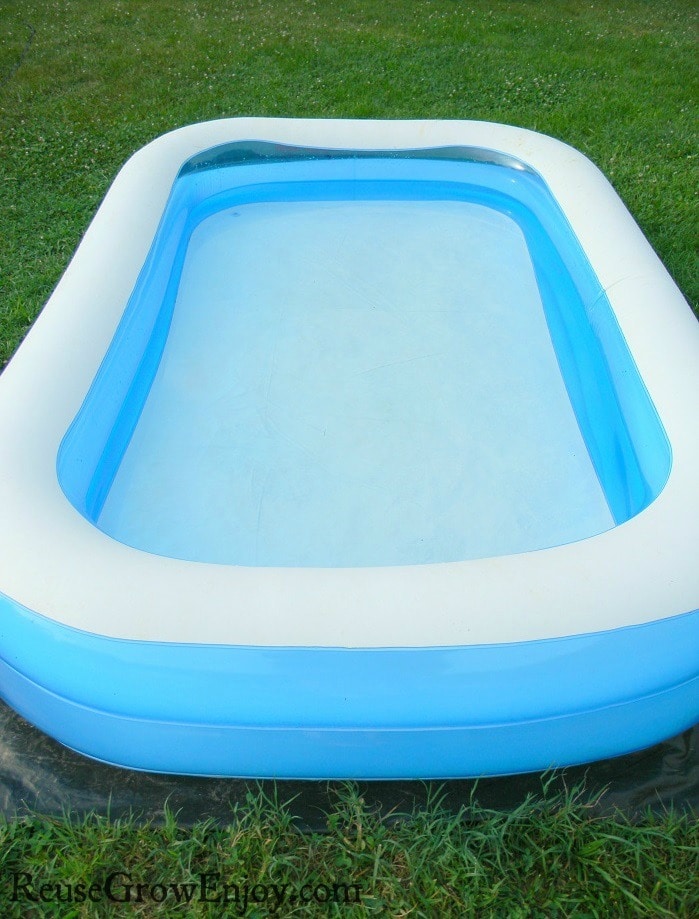 How To Keep A Kid Pool Clean Naturally
Without Chemicals
Click Here To Repin
Do you have a kiddie pool for your kids to cool off this summer with? Don't you hate how fast they turn green? I am going to show you a tip on how to keep a kid pool clean naturally without chemicals.
While this tip will work with small kids pools such as the one in the pictures (this one here) it may not work well for large pools. That is mainly because of the amount of water in the larger pools.
I got a pool for the kids to stay cool with. I mean we see a lot of days in the mid 90's and they need a way they can play outside and cool off. But after about two – three days in 90+ degree heat and the sun it will turn super green like the picture below.
And no, we did not allow them to swim in the green pool.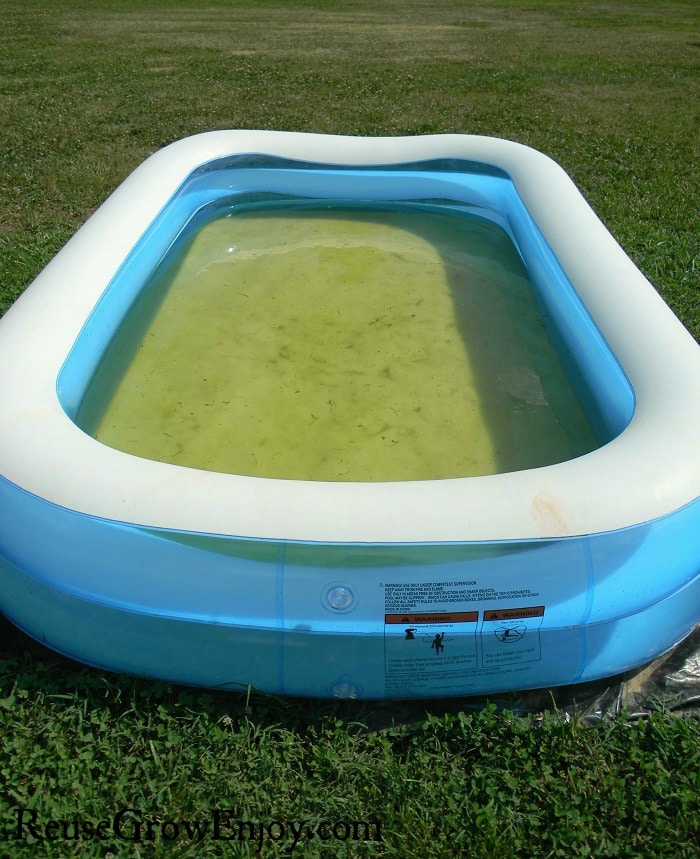 Nasty, right!?
We first started by emptying it out every few days and taking a sponge and vinegar and washing it down before filling it up again. We did use the water for the plants and other things so it would not be wasted, but it was still such a pain to do EVERY few days.
However, I did not want to add chemicals such as chlorine to the pool. So that is when I got to thinking, how would it be if I just put vinegar in the water??
I was very happy with the results after giving it a try!! I mean, no it will not stop you from ever having to empty the pool but it buys you a LOT more time and uses from the water.
How To Clean Without Chemicals:
For the pool, you see in the picture (this one here) I simply added one cup of distilled white vinegar to it each day. Then I would mix it around with my hand and that is it. The kids would hop in right after not having to worry about chemical burns.
By adding the vinegar each day, I went from having to change the pool every 2-3 days to changing it weekly or even a little longer!
The two pictures in this post, both the green and the clean are from the same amount of days gone by in the same heat and sun. Crazy different right!!?

Sign up for my newsletter for more tips and ideas like this!
Now the amount of vinegar to use can depend on the size pool you have. So if yours is smaller you may be able to use say half a cup. If larger try 1 and a half cups and play around with the amount to see what works for you.
There is one thing to note about this tip for keeping the pool clean naturally. You will not be able to use the water on the plants when time to empty. You will also want to be sure to place the pool somewhere in the yard that you do not mind if the grass is killed. This is because vinegar is also a natural weed and plant killer and will kill off the plants that it is dumped on.
Don't worry though, it only lasts a short time and you will be able to grow back in that spot again. I just wanted to note that so you don't try watering your garden or something with it.
Skimming:
Oh, one other tip for keeping the pool clean. Be sure to use a skimmer on it each day to get any bugs and grass out of the pool. That will also help the water to last longer. Let's face it, kids are great at getting grass and stuff in the pool! You can either buy one like this one here, or you can make one with a pair of stockings on a hanger.
If you found this post helpful, here are some other ones to check out.