a.Do you have trouble with a lot of food going to waste? Below I am going to share a few tips and tricks on how to reduce food waste in your home.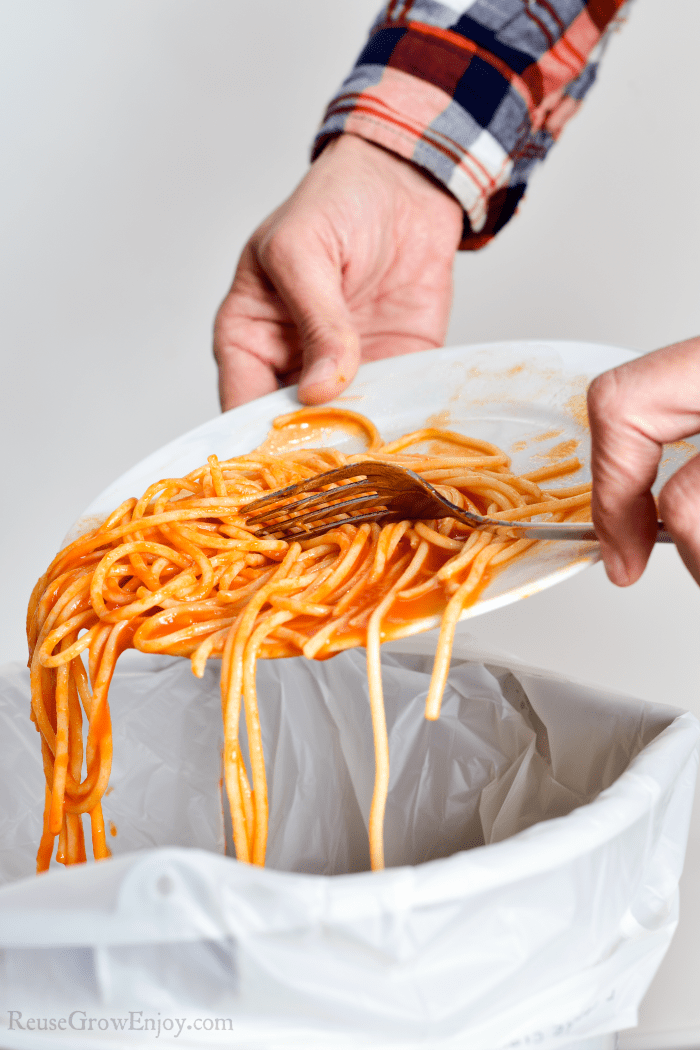 How To Reduce Food Waste In Your Home
Often we always try and find ways to cut down on the trash we send to the landfill. But what about ways to reduce food waste? It can be done when you use a little creative thinking and try and get the most from the things/food you already have.
Not only by doing this we reduce food waste, but it will also help save you money too!
Composting:
Composting your food scraps is a great way to ensure nothing will go to waste. This is perfect for peels and things that may not have any other uses around your home.
Composting unlike throwing food away helps it provide benefits to the soil in your garden helping your plants produce more food. Most spoiled nonmeat or great foods can be placed into the compost along with peels and items like eggshells.
If you are wondering just what can and can not be composted be sure to check out my post on What To Compost. You may also want to check out my DIY Worm Composting Bin – Plus Worm Compost Tips.
Animal Feed:
Feed scraps to animals if you have them. Chickens will eat nearly anything you give them however there are some items they should not have. You can check out my post on What Can Chickens Eat if you are not sure.
Dogs and cats with no health concerns can safely eat most leftover meats. Be sure to not give them cooked bones that can splinter and hurt them.
By using the scraps as feed it cuts down on the waste that goes in the trash. It will also reduce the feed bill.
Make Good Use Of The Freezer:
Prep meals ahead of time for the freezer when you come home from the grocery store. Buying carrots and other vegetables for soups and stews can lead to a collection of vegetables that go back in the bottom of the refrigerator and then get forgotten.
Instead prep everything and toss into a freezer bag for easy grab and cook meals that won't lead to rotting vegetables in the refrigerator.
Freeze leftovers into easy meals your family can grab and go. While frozen dinners are costly and can lack in flavor and nutrition you can make the same thing at home by turning your leftovers into frozen meals.
Often we toss the leftovers into the back of the refrigerator and forget they are there. By the time we remember there is no opportunity to use them. You can find reusable microwave-safe trays with lids to make them self-contained.
Freeze To Reuse In Cooking:
Vegetable scraps can be used along with the bones from meats to make an easy stock to use later for flavoring rice or as the base of soups.
Place a container in your freezer and toss everything in until it is full. If you often have more than one type of meat bones be sure to separate by animal to keep the flavor intact.
Save leftover mashed potatoes, pasta, and rice in muffin cups and freeze. These can be used for soups or adding a filler to a meal quick and easy.
Use apple and berry scraps from cooking or just a leftover bite after a snack to make a mixed fruit jelly. Scrap jellies are a great way to get extra use from the little bits you have leftover.
If you do not have enough to make jelly right away you can freeze it. Freeze them all together until you do have enough to make a batch of scrap jelly.
If you buy or open more of something then you can use, freeze the leftover bits. This works well for dairy products like sour cream and products you often use just a small bit of in recipes like tomatoes paste. Ice cube trays make the perfect way to portion these items.
Keep Track Of What Needs To Be Used:
Use a dry erase board on the front of your refrigerator to keep track of perishables that are inside. This will make it easy to see what you have and what needs to be used up. So you do not find yourself with a lot of wasted food you forgot you had.
Mark items that are coming to the end of their shelf life so you can plant to use them first.
By applying some or all of these tips to your kitchen you will be able to reduce food waste in your home. You will also get the most from the food you bought.