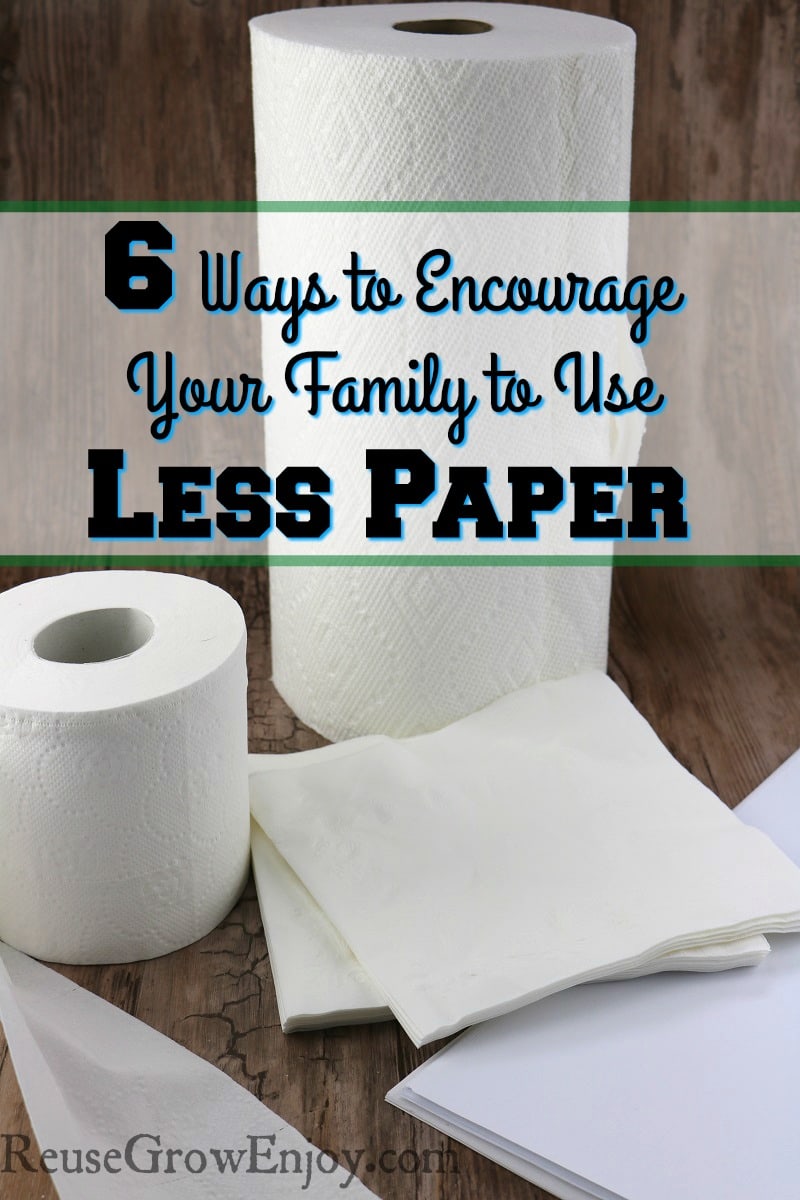 6 Ways to Encourage Your Family to Use Less Paper
It can be easy for a family of 2 or more to go through paper products quickly. Between napkins, paper towels, and even toilet paper, you can find yourself filling the waste basket with these paper products on a weekly basis. Have you asked yourself are there ways to use less paper?
As you know, this isn't good for your budget or the environment. If you are concerned about the amount of paper your family uses and want to use less paper, you simply need to implement a few tips.
Look below at 6 ways to encourage your family to use less paper, so you can reduce your carbon footprint and save some cash.
1. Replace paper napkins with cloth ones.
One of the easiest ways to cut back on paper usage is to get rid of paper napkins and replace them with cloth napkins. Kids especially tend to be wasteful by taking more napkins than they need, plus napkins are always absorbent enough for their messes. Instead, use cloth which is more heavy duty and reusable. Washcloths also work really well as napkins.
2. Remove paper towels from the house and use cloth cleaning rags instead.
Stop buying paper towels and instead replace them with cleaning rags, dish towels or washcloths. You will find fabric to be more absorbent when it comes to cleaning up messes, plus being able to wash the towels between uses is much more earth friendly and cost effective.
3. Have a conversation about toilet paper usage.
Are your kids taking more toilet paper than they need? Many kids do. It is a good idea to have a chat with kids about the amount of toilet paper they use and how much is necessary. This will ensure they are only taking what they can actually use and aren't flushing a bunch of perfectly good paper down.
4. Request e-bills instead of paper bills.
Make sure you request that companies send you an e-bill instead of a paper bill. With many households getting dozens of bills per month, you can easily cut back on paper by switching to e-bill format instead. It will also save you from having to buy envelopes and stamps!
If you are someone that likes to see those reminders, write it down on a dry erase board or something else you can look at.
5. Try reusable art surfaces.
If your kids love to draw, try using reusable art surfaces. This means chalkboards, dry erase boards, or something similar. This way you aren't going through reams of paper when they feel creative. If they want to save something they made, you can always take a picture of it with a smart phone or digital camera.
6. Remove the household printer.
Having a printer in the house may cause you to print off a bunch of stuff you really don't need. Instead, take any print needs to your local office supplies shop. You can usually print off copies of what you need for just pennies, and since it takes some effort you aren't likely to go for stuff you don't need.
If you are concerned about your family's paper usage, give these tips for using less paper a try. You will find these 6 tasks to cut back on paper can be quite effective when everyone gets on board!
If you found this helpful, here are a few others to check out.