If you are looking for a different mom gift idea or even a teacher gift idea, check this out. You can give a tote full of useful items and I even have a printable gift tag you can include!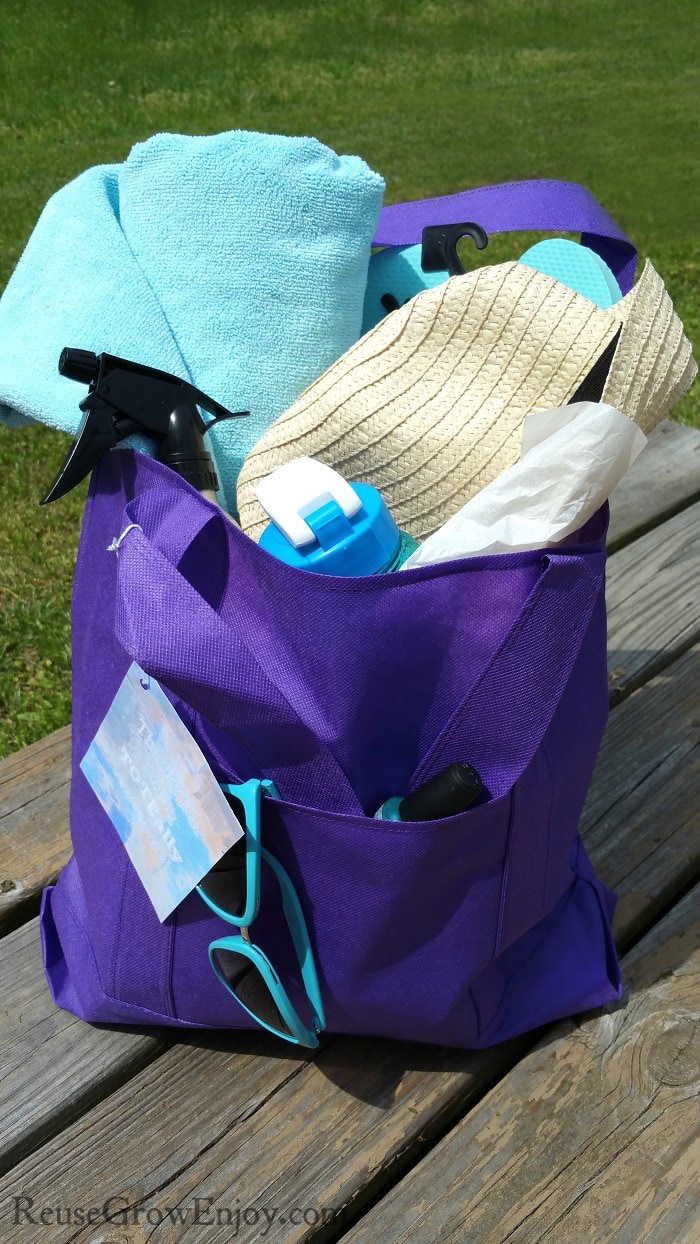 Mom Gift or Teacher Gift Idea
With Free Printable Gift Tag
This idea is great for a mom gift, teacher gift, graduation gift or for just about anyone. It can be changed up to fit the person to make it extra special.
There really are endless options you could do with a gift tote. I did a summer bag but it could be done as a gardeners bag, beauty/spa bag, art supplies just to give you a few ideas.
This is what I included in this summer bag idea, but you can add more or less. Most of the items are super budget friendly too and can be found at just about any dollar store.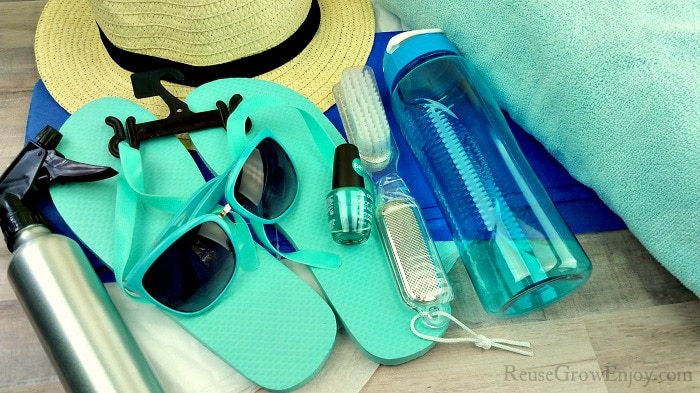 Included In Summer Tote Gift:
Tote
Pair Flip Flops
Nail Polish
Sun Glasses
Summer Hat
Spray Bottle
Beach Towel
Reusable Water Bottle
Tissue Paper
You could also include some sunscreen and some after sun gel.
I have made two different versions of the free printable gift tag. I used the white text one for in the pictures (shows better in person than on the picture). But there is also a black text option. So feel free to use whichever one you like best.
Here is a picture of what the tags look like. They will print with four to a sheet of paper.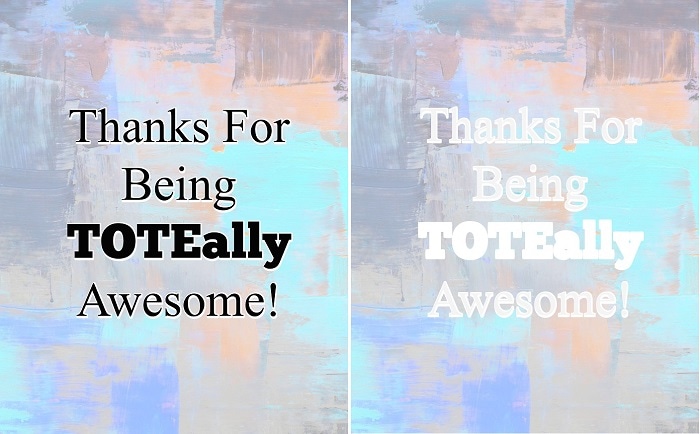 You can print the white text one here. Print the black text one here.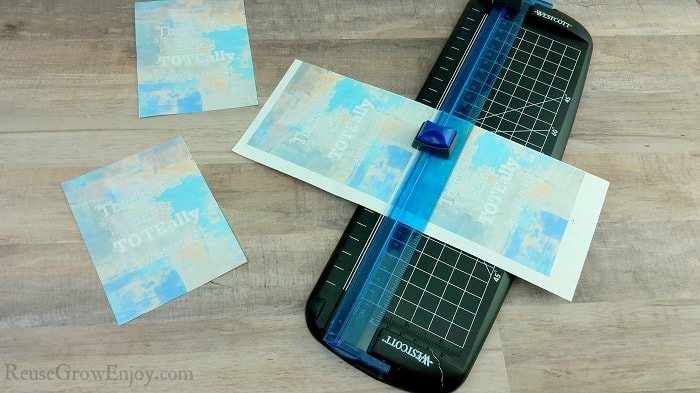 How To Attach:
After you have printed out your chosen gift tag. Use some scissors or a paper cutter to cut them apart.
Then simply use a hole punch to make a hole in the tag. I put a hole in the top left corner.
You want to make sure you put the hole down enough to it does not tear at the edge, but not so much that you hit the text of the tag.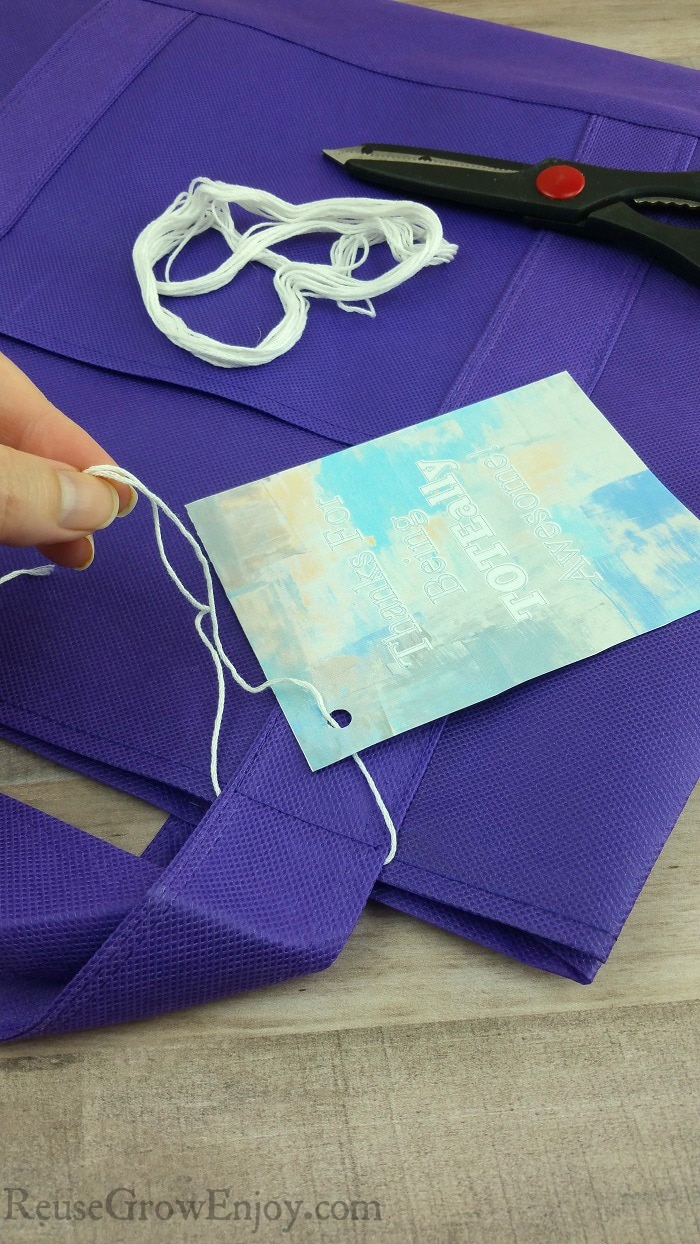 Then use some string, twin or even ribbon to slip through the hole and around the handle of the tote bag. For mine, I just used some embroidery thread.
Tie it in a knot or a bow and then cut off any extra string with a pair of scissors.
That is all there is to make this super simple and cute mom gift or teacher gift idea!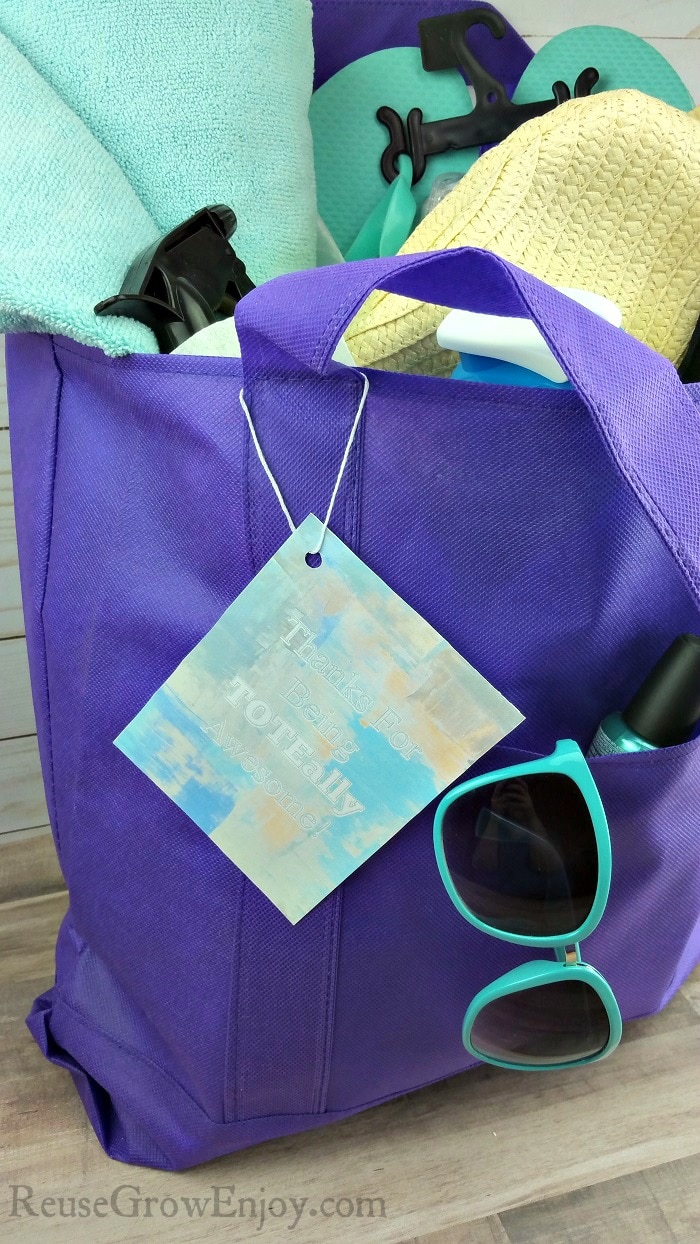 What Other Ideas Would Work In A Gift Tote?
As I noted above this mom gift or teacher gift can work for just about anything. But I know coming up with ideas and things to include can sometimes be a challenge. So I have put together a few different ideas below of things you could do.
Tote or Plastic Tote Basket
Gloves
Watering Can
Flexible Garden Ties
Kneeling Pad
Sun Hat
Spray Bottle
Trowel
Hand Rake
Beauty/Spa Gift:
Bath Bombs (you can make your own with this DIY)
Face Masks
Lotion
Hair Bands
Brush
Bath Brush
Lip Balm
Lip Gloss
Homemade Soaps (here is an easy DIY)
Essential Oils
Loofah
Bath Pouf
Sleep Mask
Art Gift Tote:
Paint Brushes
Paints
Sketch Pad
Gel Pens
Color Pencils
Fine Tip Sharpies
Pencils
Art Pallet
Apron
Baker or Cooks Gift Tote:
Whisk
Silicone Spatulas
Cutting Board
Rolling Pin
Knives
Hot Mitts
Apron
Dish Towels
Baking Cups
Pastry Bag With Tips
Silicone Baking Mats
If you need some other teacher gift ideas or mom gift, here are a few to check out.