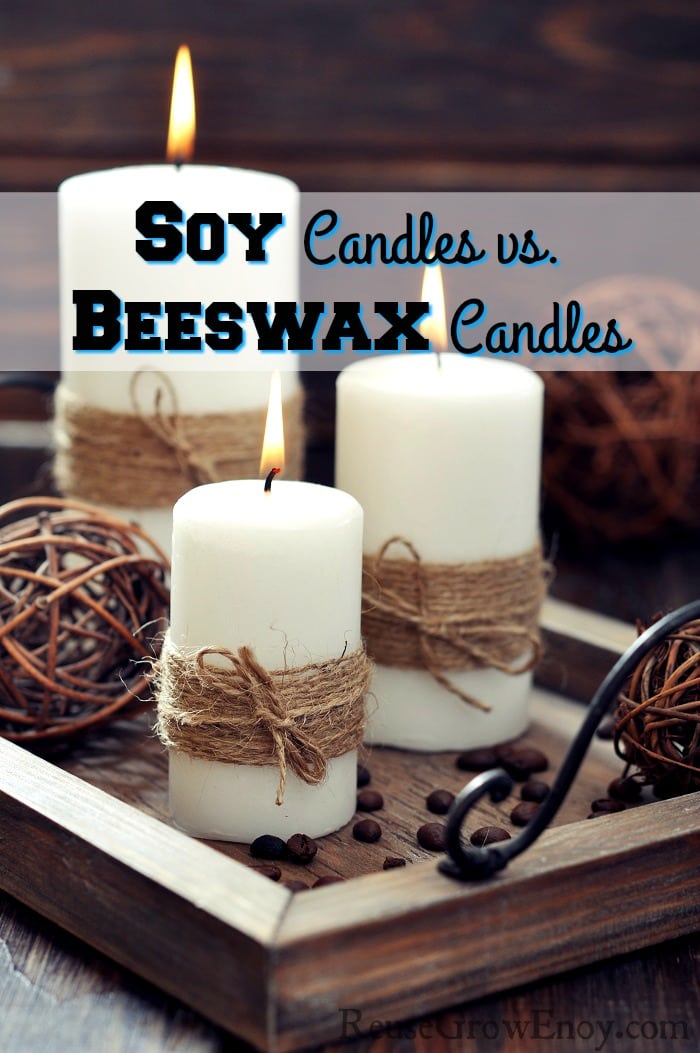 Many people don't know that nowadays there are a couple different kinds of candles to choose from. The big three are paraffin wax, soy wax, and beeswax candles. Most people have started to turn away from traditional paraffin candles in favor of the other two. This is because paraffin candles release carcinogens and dangerous soot into the air.
But that still leaves soy wax and beeswax candles, and many people wonder, which is the best? Let's take a look at soy candles vs. beeswax candles!
Soy Candles vs. Beeswax Candles
Paraffin Content:
One of the major differences to consider when trying to compare soy vs. beeswax candles is paraffin content. You may think that both types of candles contain no paraffin, but in fact, all soy candles contain at least a small amount of paraffin wax. It's just part of how they have to be made. And since there's no regulation regarding labeling and paraffin content in soy candles, it's quite possible that any candle with the vague labeling "soy candle" could actually contain a lot of paraffin.
Scent:
If you enjoy a scented candle but want to be as safe as possible, you'll probably want to choose an unscented beeswax candle. That may not make a lot of sense at first, but you have to consider that beeswax naturally has a scent because it contains honey and pollen. In contrast, soy candles have to have scents added to them, and those added scents may not always be safe. Unless you are making your own, then you can always add in your favorite essential oils.
Color:
Yet another point to consider in the soy vs. beeswax candles debate is color. Beeswax candles naturally are honey colored. Soy candles have to have dyes added to gain any color. And as with most additives, those dyes could potentially be dangerous.
Environmental Impact:
You probably wouldn't think that the environment would become a factor in a soy vs. beeswax candles discussion, but it is. That's because soy candles are made of soy wax, which comes from soybean oil. Many soy wax candles contain genetically modified soy (though non-GMO soy wax candles do exist). Conventional soybean production involves a lot of pesticides and a lot of water, and promotes rainforest deforestation.
In contrast, beeswax comes from bees, and given the plight of bees these days, it doesn't hurt to promote beekeepers and to create more apiaries (bee farms).
Price:
The most affordable candles will probably always be paraffin, followed by soy, with beeswax candles coming in last place. But you have to remember, you get what you pay for. A pricier beeswax candle gets you a safe, clean burning, naturally colored and naturally scented candle. A less expensive soy candle will get you something better than a cheap paraffin candle, but it still carries some potential health risks.
Allergies:
If you or a family member has allergies, this point may be very important to you. Because they are sometimes impure, soy wax candles can potentially aggravate allergies by releasing soot and other chemicals into the air.
In contrast, when a beeswax candle burns, it helps clean the air by releasing negative ions. These help destroy the positively charged allergens and pollutants in your air. Many people have attributed beeswax candles with helping them deal with all sorts of airborne allergens.
Conclusion:
So in the end, which is the best choice? Overall, I'd say that unscented, uncolored 100% pure beeswax candles are the best. But if you have a tight budget, then I'd get soy candles, because they're still better than paraffin. In the end, either type is a healthier, better choice than a traditional paraffin candle.
If you make your own you can get beeswax candles much cheaper. Plus you can pick the scents of oils that work best for you, your family and your home.
What type of candles do you have or will you go with when choosing candles?
If you liked this post, here are a few others you may want to check out.