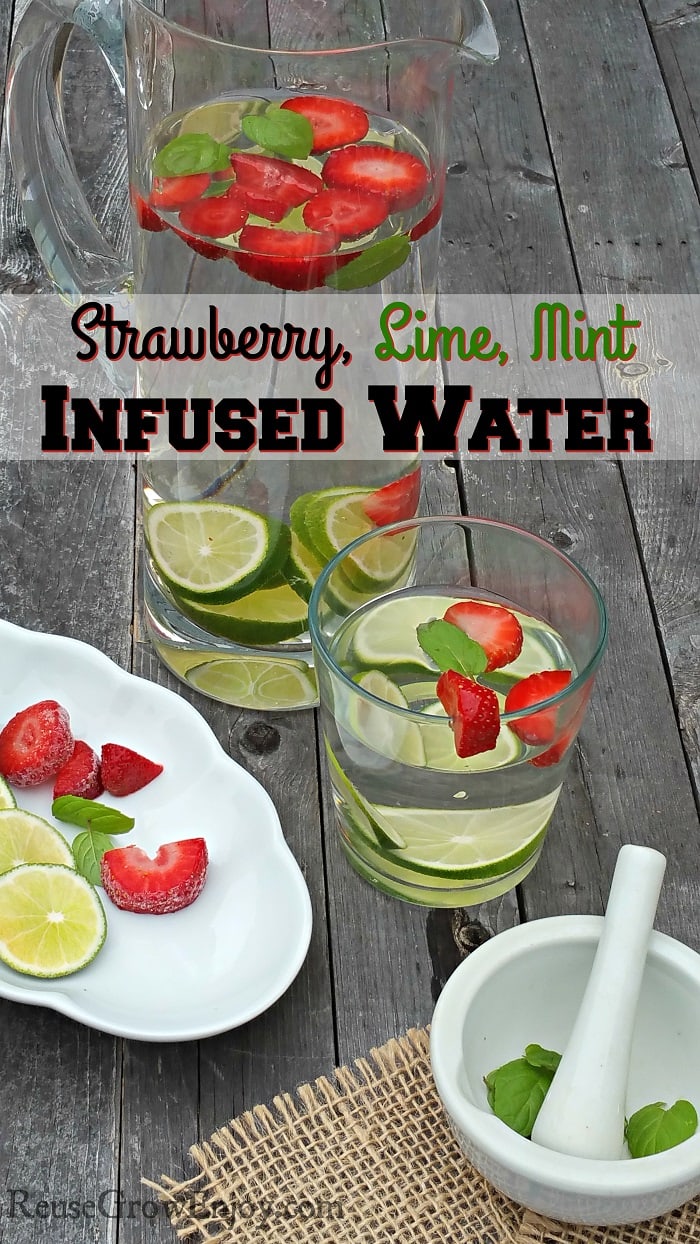 Strawberry, Lime, Mint Infused Water
With summer knocking at our door, what do you do to make sure you are drinking enough water? Do you ever drink infused water to change it up? I do from time to time and I have found that this mix of strawberry, lime, mint infused water really changes it up. It is almost like you are drinking a punch or something other than water.
While you can drink infused water all year long, it is one of the best drinks for the summer. One easy tip that I have found is to freeze the fruit. Not that all fruit is great frozen, but a lot of them are! Like with this recipe of strawberry, lime, mint infused water, I froze the strawberries! If you are not sure how to do that, you can check out my post on how to freeze strawberries.
You can serve it in a regular pitcher, however if you do not like the fruit splashing in your face, you can also invest in an infusing pitcher. I for one don't mind the fruit in my pitcher or glass. It allows me to simply pick out the slices of lime or whatever and then just eat the rest. Just adds in those extra vitamins from the fruit when you eat it.
This is really a pretty simple recipe to do and can be changed up to your liking. One of the biggest things to remember and do when making infused water is to let it relax for about 5 to 10 minutes before serving. This allows it to fully fuse to the water and bring out the best flavors. There are a few tools that you really should have and keep on hand when flavoring drinks, one is a  juicer / reamer the other is a mortar and pestle.
After you have given this a try and found that you really like flavored water, don't be afraid to try other flavors. Get creative and come up with your own mixes. These really are such a great way to make sure that you stay hydrated this summer.
If you liked this post for infused water and are looking for other summer recipes to try, here are a few you might like,
Strawberry, Lime, Mint Infused Water
Ingredients
1

Cup

Sliced Fresh or Frozen Strawberries

2

Limes

one at room temperature

12

Fresh Mint Leaves

2

Quart

Water
Instructions
Start with one lime at room temperature.

In large pitcher add 2 quarts of fresh water.

Mix in the fresh sliced berries or pre-frozen ones to the water.

Using the hand juicer, juice the room temperature lime into the water.

Now slice the other lime into thin slices and add them in.

Then add in the remainder of the mint leaves.

Mix fully

Let relax for 5 to 10 minutes

Add ice if you like and serve.