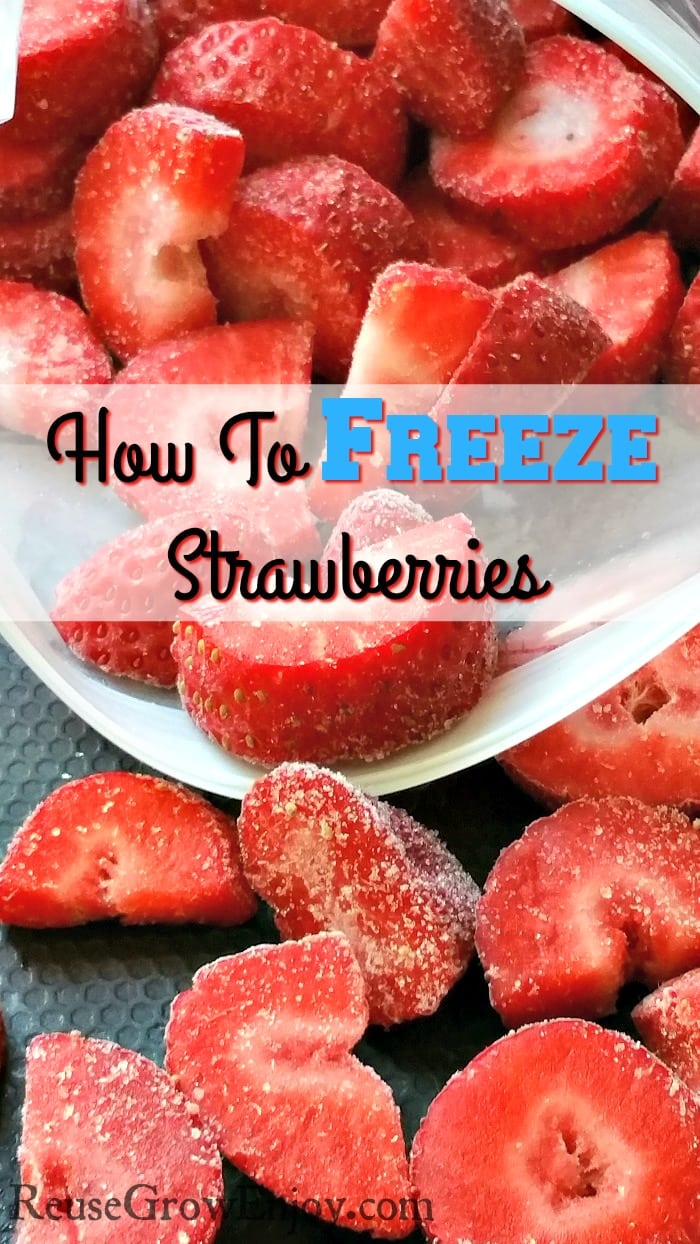 How To Freeze Strawberries
Do you grow your own strawberries? Or maybe just stock up when there is a good sale? Did you know that you can also freeze strawberries? You can! If you have had as many strawberries as you can eat and still have a ton left, you will want to check out how to freeze strawberries.
I personally have found that it is one of the best ways to preserve fresh produce is by freezing them. I have tried the drying method and do use it from time to time. But to me freezing them just locks in that fresh taste. Makes it great for adding it to a bowl of oats in the morning, or adding a few to a little dollop of whip cream in the evening. Plus, if you know how to freeze strawberries you can save yourself so much money as you will never have to pay full price and always have them on hand!
While you can freeze strawberries whole, I like to do mine sliced. That makes it so much easier to grab just a serving for one and not have to try and slice a strawberry when it is frozen.
So first things first, you want to be sure that you are starting with clean berries. Add the whole strawberries to a fresh bowl of water and rinse them around. If it will be a little while before you will be slicing and going to freeze strawberries, you will want to use the Strawberry Wash that I posted the other day. But if you are freezing right away, water is just fine.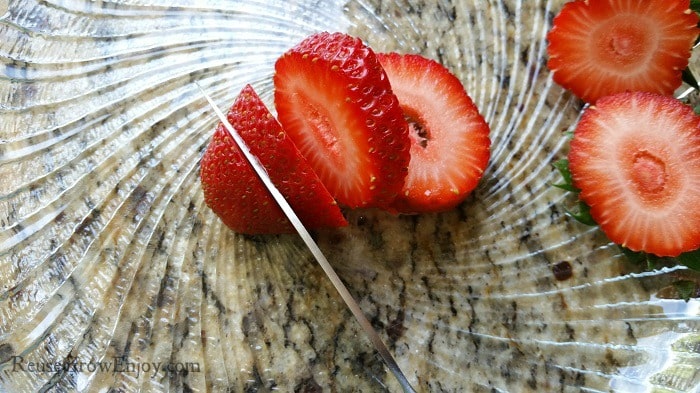 Next, you want to dry them. After washed place in a colander or lay out on a paper towel. After they are fully dry you can move on to slicing them. First, cut off the green leaves with a knife or a strawberry huller. Then cut the berry into thin slices and then cut the slices in half. After you have them all sliced, lay them flat on a cookie sheet. Be sure they are in a single layer before you freeze strawberries. If you have them piled on top of each other, it will freeze into one big clump.
When you have the cookie sheet full, place it laying flat in the freezer. Allow to freeze for one to two hours (depending on freezer setting). After they are fully frozen, remove from the cookie sheet and place in a freezer bag. Remove as much air as you can and then seal the bag. Then put the bag in the freezer and take it out whenever you need some berries. Easy right!? That is all there is to know about how to freeze strawberries!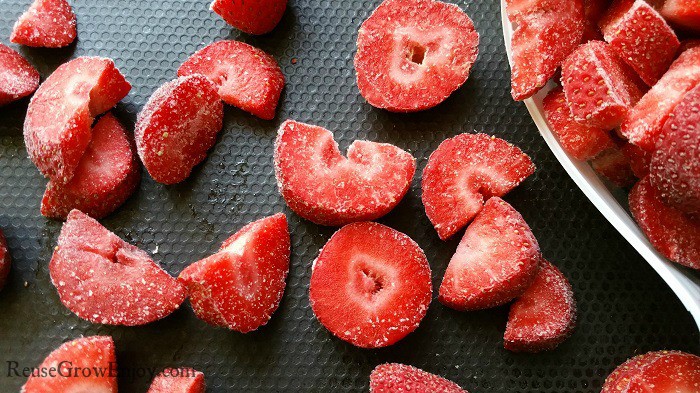 If you are looking for ways to use your strawberries, here are a few posts you may want to check out.
Now that you know how to freeze strawberries, what is the next fruit you want to try to freeze?