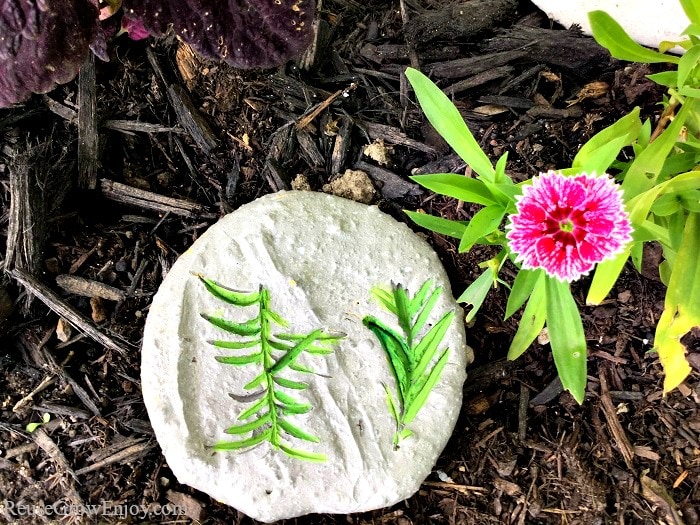 DIY Cement Garden Stone
Have you ever seen those adorable garden stones at the store and wanted a few for your garden but they are too pricey? I am going to show you how you can make your own cement DIY garden stone. It is pretty easy and budget-friendly. You can make a bunch for the price of buying one or two at the store.
While this stone was made using a twig with leaves, you could use anything you want to make the impression. Use sticks, leaves, toys, blades of grass or just about anything. Heck, why not do a bunch with different things on each one??
Supplies Needed:
Acrylic green paint
Bush twigs (or grass, leaves or whatever you want to use)
1 cup of portland cement
⅓ cup of water
A scrap of cardboard or a flat edged smoothing tool
Piece of Cardboard
A bucket
Directions:
The first thing you need to do is place 1 cup of cement in a bucket. Then add ⅓ cup of water to it and mix well. If you want effortless mixing, attach an old beater or mixing tool to the end of a drill.
When mixed the cement should be the consistency of thick pudding. If it is to thick you can add a small amount of water to it, just be careful not to add too much water because it will become to thin and the cement will crack.
Next, pour the well-blended mixture onto a piece of cardboard in a circular or oval shape. Well, unless you want your stone to be another shape, feel free to shape it how you want just keep it small.
Now gently pick the cardboard up just a few inches and carefully drop the cardboard (keeping it level as you can) onto your work area to release air bubbles and to help smooth the cement.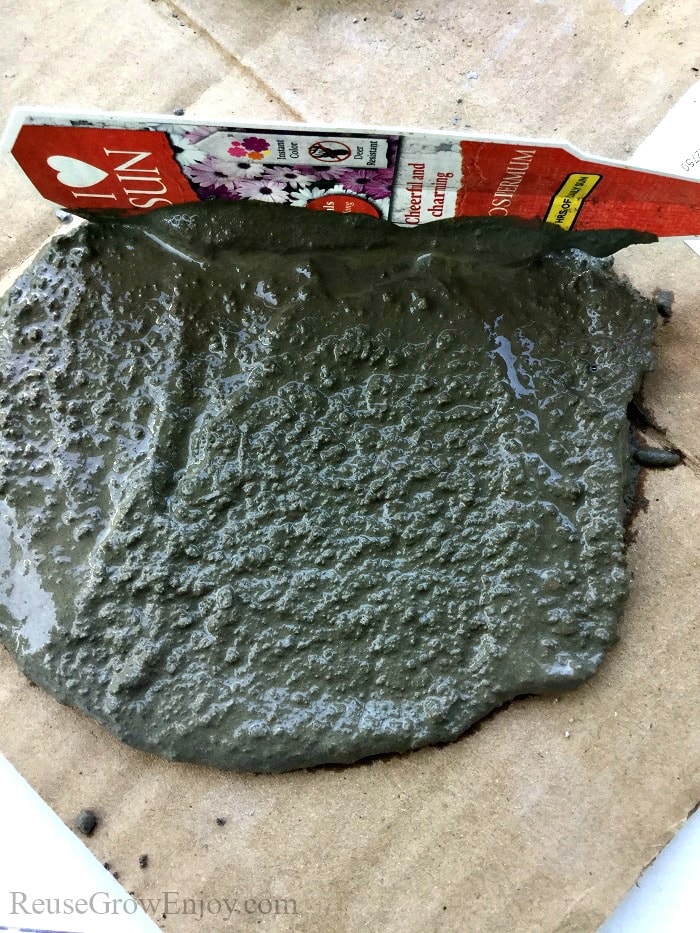 Use another piece of cardboard the flat side or an edge tool to smooth the cement. Plant tags also work well for smoothing. Don't push it into the cement but just run it over it to smooth it out.
Take your twigs or whatever you are using to imprint the garden stone, carefully press them into the cement making sure not to push it all the way down but just deep enough to leave a print.
Now put the cardboard in the sun, allow it to dry for 4 to 6 hours or until fully dry. After it is fully dry, you can gently peel the twigs out of the cement.
If you have any sections of the twig that don't want to release from the cement, gently brush them loose with an old toothbrush.
Leaching & Painting:
This next step is pretty important if you plan to use the decorative stone in your garden. Cement contains lime which raises Ph levels in the soil. So getting your stone ready for the garden is essential to the health of your plants.
Simply soak your stone in water for 2-3 days. Make sure to empty the water and replace it several times each day. By doing this it will help leach the lime out of the cement garden stone.
Now you can either leave your stone as it or paint it. To paint the fine impressions from the evergreen you can use a fine writer tip on an acrylic paint bottle. Or a paintbrush, either one will work.
If leaving it up painted, there should be no need to seal the cement. However, if painted you may want to use a spray sealant if to make the paint last longer. Or you could just repaint if it wears off if left unsealed.
If you liked this DIY, here are some others to check out.