DIY Felt Food
Do you have kids? Do they love to play house and feed their dolls and you? If so, you should check out this super easy way to make DIY felt food! You can even get the kids to help you make it. While these directions show you how to make a chicken felt dinner, you can use the same idea to make many other foods. You could make toast with jelly, pizza and so much more.
Supplies:
Directions:
Begin by assembling the peas. We cut out a scalloped circle in one shade of green and then filled it in with small circles of the second shade of green. You can glue the small circle peas into place if you wish or leave them free so kids can move them.
To create the chicken leg, a simple oval made from brown felt works. We create the leg bone using white felt cut into an elongated heart shape. Glue the two pieces together so they become one leg.
Next, create the mashed potatoes. Another scalloped edged circle will work. Finish it off by adding two yellow squares for butter. Again you can glue these to the potatoes or let kids do it themselves as they play.
Assemble the pieces on a plate for make believe play time and enjoy.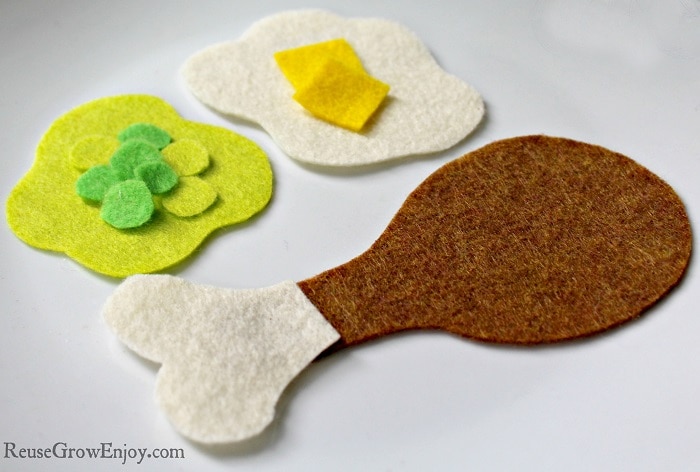 If you liked this craft for DIY felt food, here is a few other crafts to check out.