Ever wonder how to make coconut milk? It is easier than you might think with this easy homemade coconut milk recipe!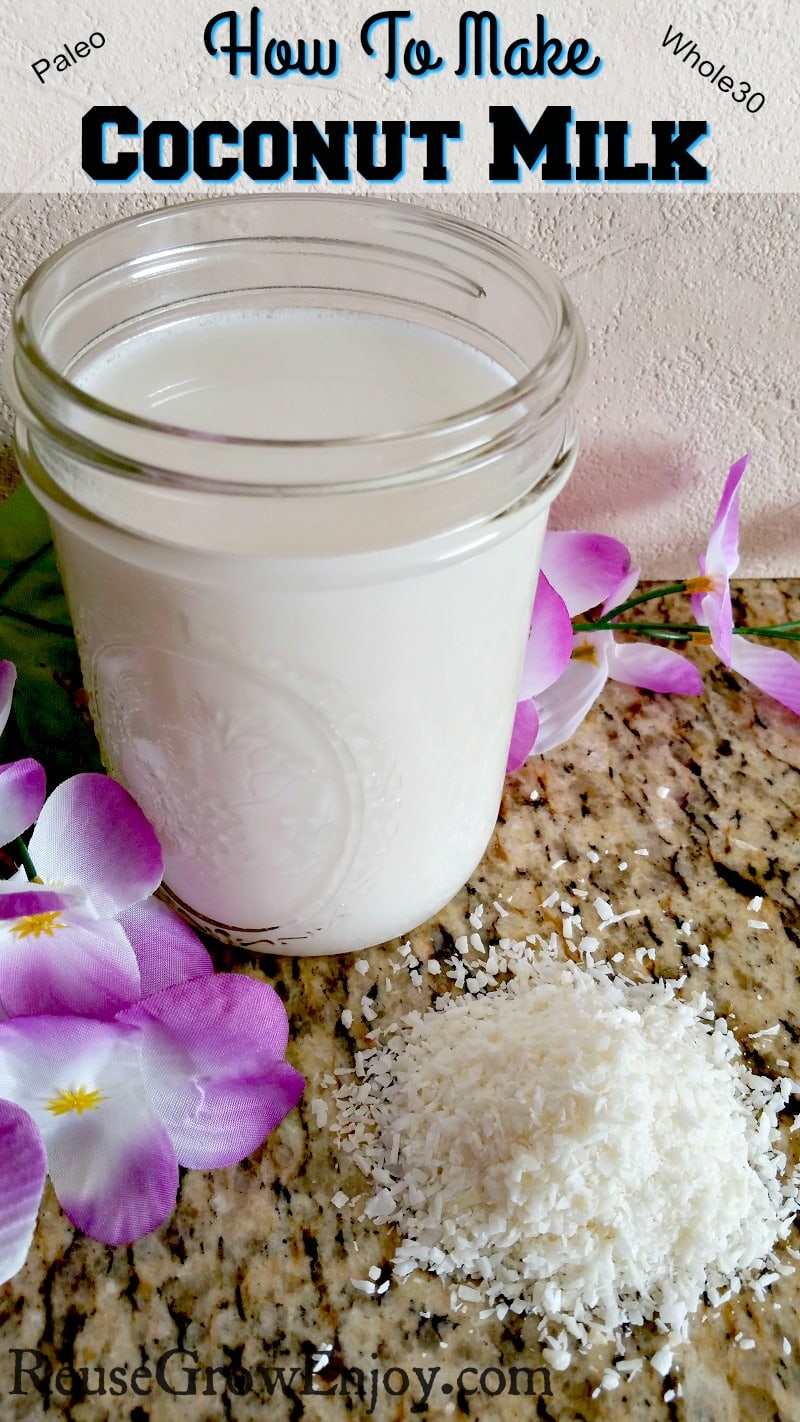 Are you trying to eat healthier? Maybe doing the Paleo or Whole30 diet? Or maybe you just can't have dairy products?
If you have been looking to try coconut milk but are having a hard time finding it without fillers, then this post is for you! I am going to show you how to make coconut milk at home.
This works for both Paleo coconut milk and Whole30 coconut milk as it will have no fillers, thickeners, sweeteners, or additives.
You can make it in a small or large batch. I like to make it more on the small batch side as there are no preservatives in it so it does not last as long as the store-bought coconut milk. But it is easy enough to make every few days.
Unless you are a large family, then I would not make a large batch at a time.
To make it, you pretty much need water and dried shredded coconut. Just be sure you get the unsweetened no additives. I used Bob's Red Mill Shredded Coconut Unsweetened. You can also use fresh coconut meat if you have fresh brown coconuts available.
You will also need a good blender and either a nut milk bag or cheesecloth. Oh and a glass container to store it in.
This recipe is really easy. Whatever amount of coconut you use, you will need double that amount of water.
Ready to learn how to make coconut milk? Let's get started!
If you liked this recipe, here are a few others to check out.
Supplies Needed To Make Your Own Homemade Coconut Milk:
How To Make Coconut Milk:
The first thing you want to do is heat your water. You can either do it in a pot on the stove or a glass measuring cup in the microwave.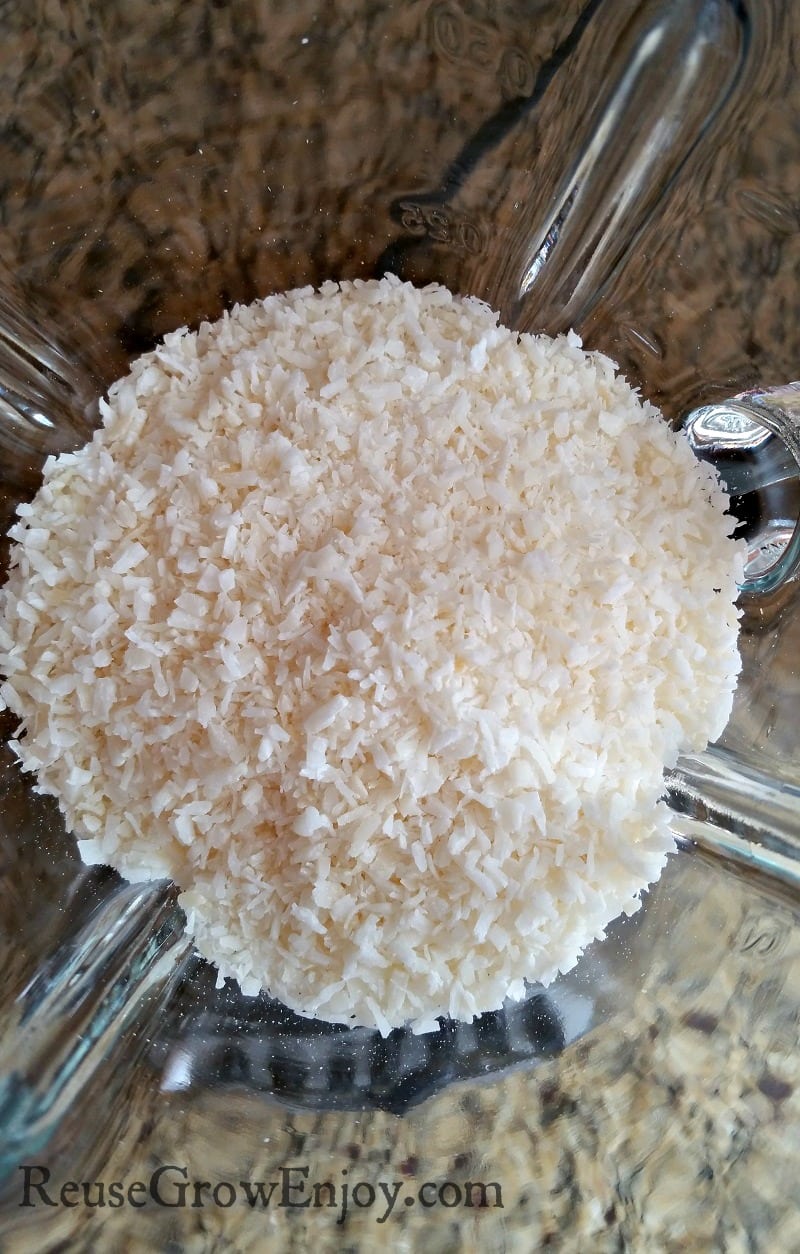 While the water comes to a boil, add your coconut to the blender.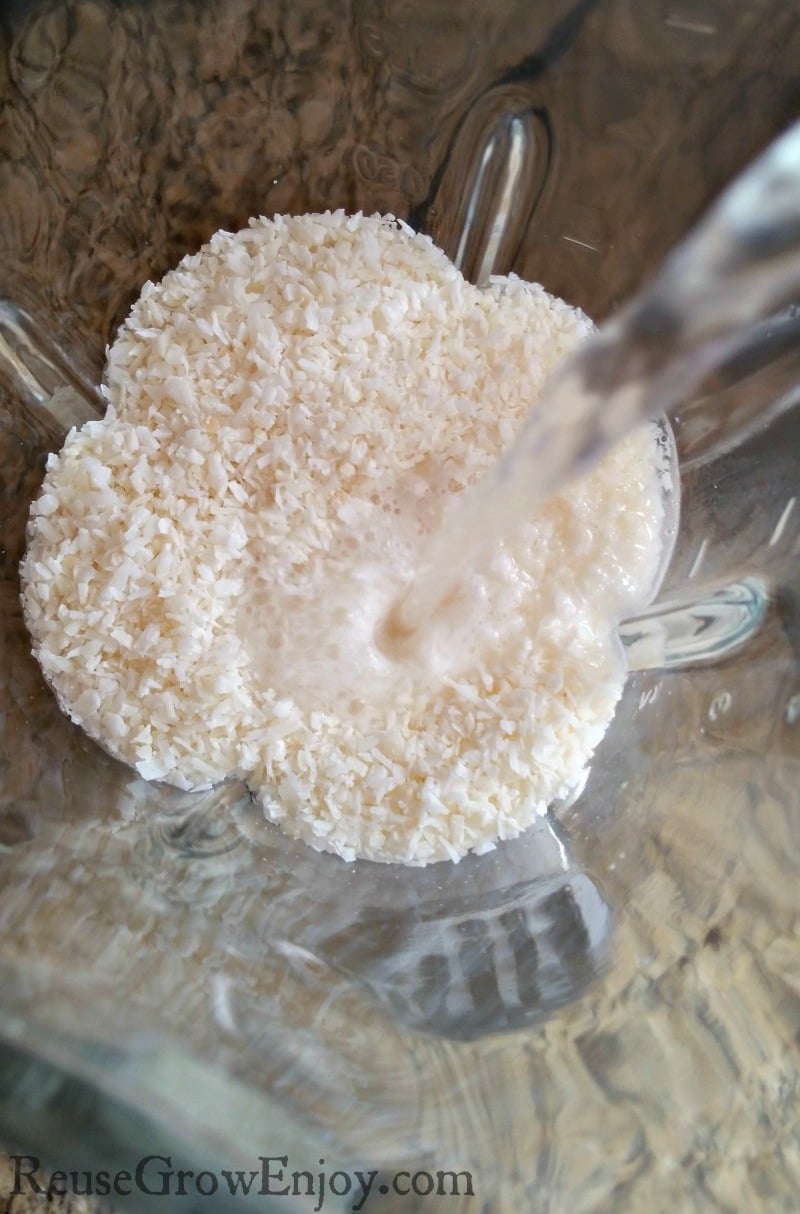 Then dump the hot water in the blender.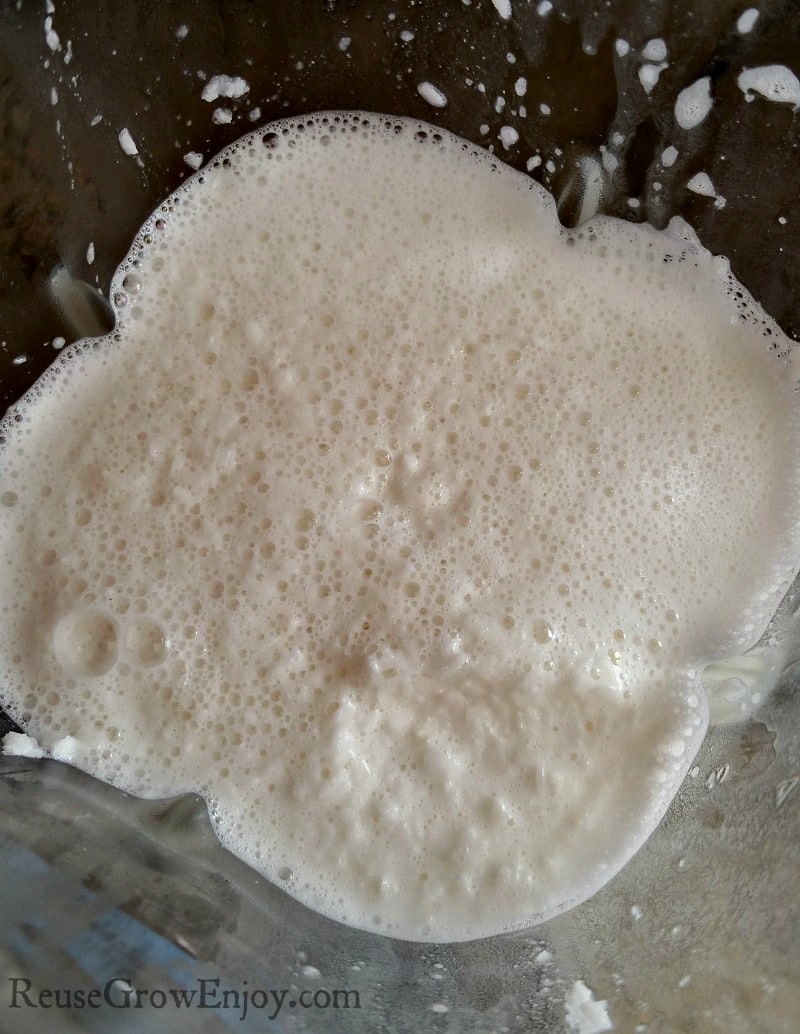 Next, you want to puree it for a minute or so until it is thick and creamy looking.
Now, allow to rest for a minute, and then give another quick puree.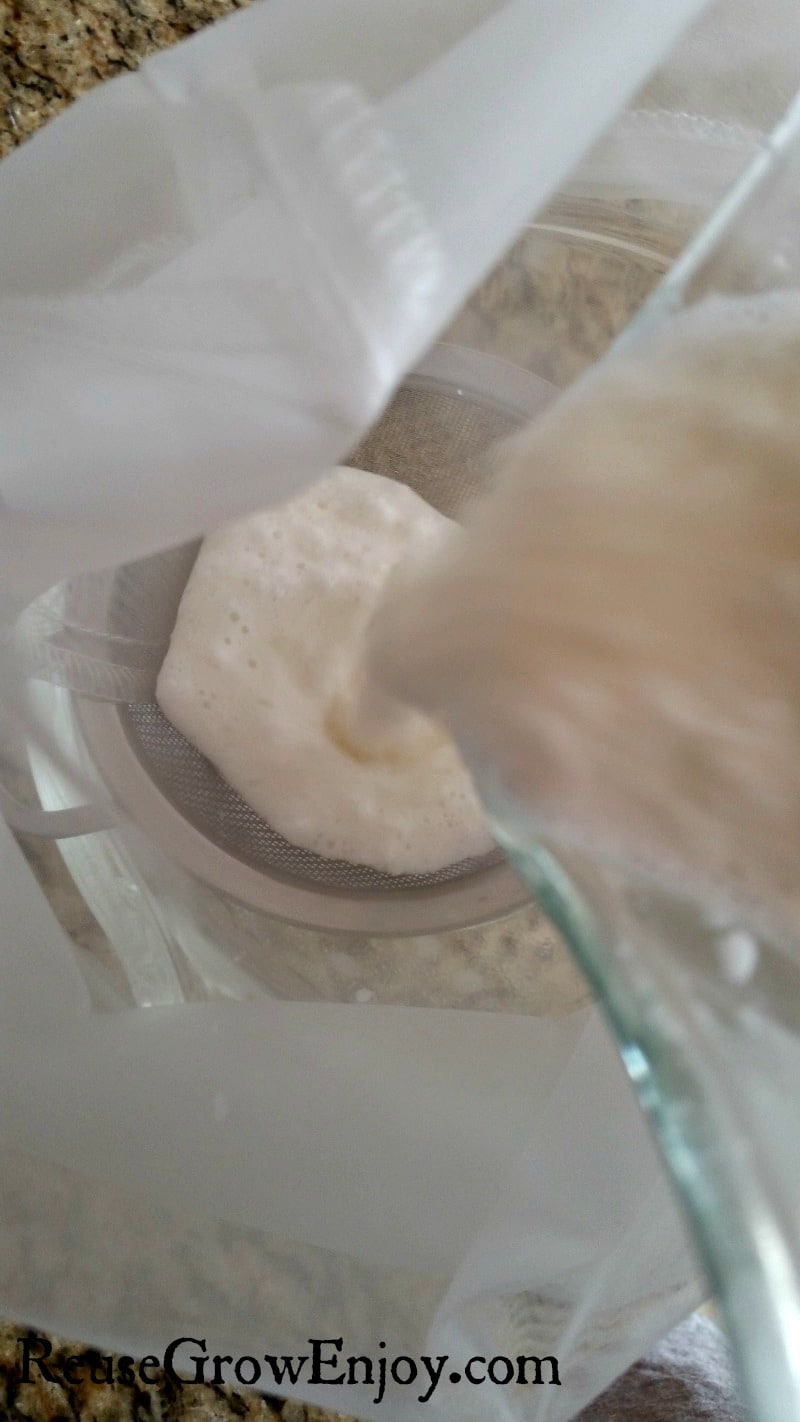 Place the nut bag or cheesecloth in a colander that is sitting in a bowl. Then pour the mixture through the bag or cloth.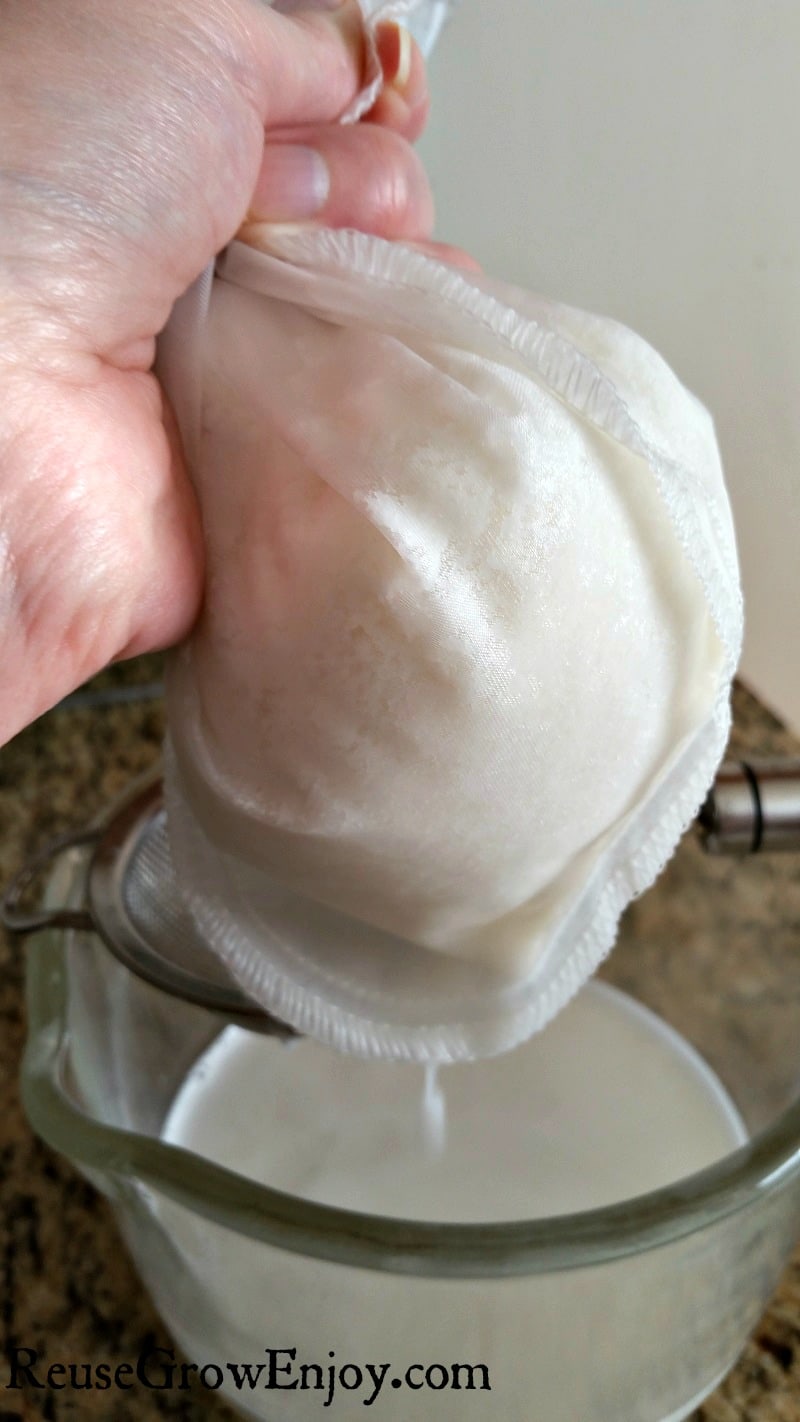 After all the liquid is through, give the bag or cloth a squeeze to get everything out that you can. Then empty the bowl into your glass container.
Allow to cool and then put the lid on and place it in the fridge until you are ready to use it.
Now you have some fresh coconut milk ready to use when you need it for a recipe or a smoothie!
How To Use Your Own Coconut Milk:
Coconut milk can be used in all kinds of recipes such as smoothies, chia pudding, coffee, and oatmeal just as you would use normal milk. You could even use it over a bowl of cereal.
The one thing we should note is that when this is in the fridge, the coconut oil/fat will harden on the top.
You have a few choices, you can either slightly heat it back up or allow it to come to room temperature to make it liquid again. If adding to a smoothie, you can just scoop some out and put it in the blender along with some of the milk and other smoothie items. When you do use it, it does make for creamier milk.
Or if you want less fat milk, simply scoop the hardened oil off and just use the liquid milk underneath.
How To Store DIY Coconut Milk:
Because there are no additives or preservatives in homemade coconut milk, it should be stored in the fridge. It should also be stored in an airtight container such as a jar with a lid.
It will only keep for three to four days if stored correctly.
Like normal dairy milk, coconut milk can be frozen but it will taste and feel a little different when thawed. So it may not be as good for just drinking a glass of it after frozen, but will still work for recipes like smoothies.
Frequently Asked Homemade Version Coconut Milk Questions:
Q. Is coconut milk and coconut water the same thing?
A. No. Coconut water is the liquid that is normally in a freshly opened coconut shell. Whereas coconut milk is a blended mix of water and coconut shreds, coconut flakes, or dried coconut.
Q. If you don't have a blender could you use a food processor?
A. You can but you do have to be careful and only make a small batch at a time. If you make too much the warm water will slosh out.
Q. Could you use coconut flour to make coconut milk?
A. In a pinch you could. While coconut flour is made from coconut flesh it has lost some of its goodness in the processing, so it will not be as rich and fatty but it will work. That is unless you are using your own homemade coconut flour, then it would work just the same.
Q. Do you just trash the leftover pulp after you have strained it?
A. You can, however, there are different ways to reuse leftover coconut pulp too. The easiest way is to add it to your compost. You can also dry it back out and grind it down to make coconut flour.
Q. Is this the same method you use to make other plant-based milk?
A. Yes they are all pretty much made this way. So feel free to make your own soy milk, cashew milk, almond milk, or oat milk.
Q. Is coconut milk diet friendly?
A. Yes! Coconut milk is allowed on so many diets including those that are for food allergies. However, when you buy commercial coconut milks at the grocery store, it can be full of extra additives and thickeners such as guar gum. While there are still some that will work for Paleo or Whole30, it can make it hard to find canned coconut milk that is approved.
Q. Do you have to use a nut bag or could you just use a fine-mesh sieve?
A. You could just use a fine mesh strainer if that is what you have on hand. I just find for best results that the nut bag helps to keep out even the smallest pieces of grated coconut.
Q. Can you use cold water?
A. No. The cold water will not be able to pull all the goodness from the coconut to give us that perfect consistency in the coconut puree.