When you grow your own food you soon realize that controlling pests is part of gardening. While there are lots of garden pests out there we are going to talk about how to naturally control slugs and snails in this post.
How To Naturally Control Slugs And Snails
I know there are lots of easy chemicals out there that you can use to keep your garden safe from slugs and snails. But then you just have to worry about the chemicals being all over your produce. That is why I like to naturally control slugs and snails.
Now, this may not be a pest that you have issues with in your area. Some areas are more prone to slugs and snails than others. But it is always a good idea to read up on garden pests just in case they show up in your garden.
Diatomaceous Earth:
Diatomaceous earth is one of the best ways to help control slugs and snails easily. This also works on other pests in your gardens like ants, Japanese beetles, and cabbage worms.
The sharp edges are microscopic and unnoticeable to humans. You can place a line around your garden beds to help keep them away.
If treating other insects at the same time such as aphids opt to dust your plants as well. You will need to replace this often after it rains.
Eggshells:
Much like diatomaceous earth, you can use eggshells to kill snails and slugs in your garden. To do this you need to crush clean dry eggshells making them sharp and spiky.
Just don't crush them so much that it makes powder, you need it to be sharp.
Places these around your garden beds to cut snails and slugs as they slide across them.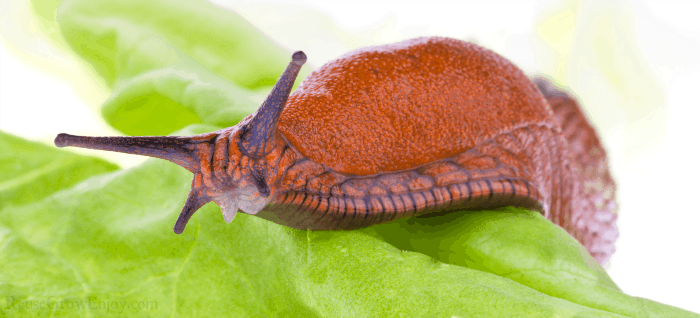 Trap Them:
A great way to trap slugs and snails is to trap them with beer. Place beer in a can or pie tin and place it in your garden.
If you bury it, avoid placing the top flush with the soil as you could trap beetles that eat slugs. Snails will be attracted to the beer and go to sip. Slugs and snails will fall into the beer and drown. This method I have found to be the least effective.
Wood Trap
Set a wet wood trap to gather slugs and snails from your garden overnight. Slugs and snails will actively seek out water to keep hydrated.
Soak a wooden board and place in an area you actively see these pests. You can cover with leaves for even better results. In the morning check your traps and discard snails and slugs that have found their way.
Using Birds:
Backyard chickens or ducks work wonders to naturally control slugs and snails. They also help keep other pests at bay as well. Plus I find that the poop from the birds really helps the soil in the garden.
If you don't want chickens and ducks, you can attract predators like birds to your garden. Birds love to eat slugs and snails. By attracting birds to your garden you help kill off pests in your garden and make others less likely to come to your garden.
If you have a bad slug or snail infestation placing a bird feeder near them can help solve this problem fast and maintain a slug free garden long term.
If attracting birds to your garden does not appeal to you because they tend to eat fruits and vegetables you can welcome other predators to your garden.
To deal with slugs and snails you can order praying mantis eggs online or check your local nursery. These will hatch and eat slugs and snails in your garden.
Make your garden less appealing to slugs and snails.
Slugs and snails love water. If your soil or mulch is too wet your are more likely to see slugs and snails. Change how you water your garden to deep watering.
Deep watering is great for your garden because it encourages deep rooting and makes your garden less susceptible to drought but it also comes with great pest control benefits.
When using the deep watering method your garden topsoil is dryer making it less likely to attract slugs and snails.
Plant high fragrance herbs and flowers like marigold, lavender, basil, and mint around your garden. This will help repel unwanted pests like slugs and snails that prefer heavy green plants with a low fragrance.
Plant these on the edges of garden beds with lettuce and cabbage to help protect them.
Make areas around your garden less appealing. Allowing plenty of cover in the form or tall grass or leaves on the ground can make your garden appealing to slugs and snails.
Rake up leaves and remove debris such as twigs and logs from around your yard. Cut your grass often to keep it short and remove clippings to make finding their way into your garden difficult.
Looking for more gardening tips? Here are a few others to check out.