Pallet Upcycle – Pallet Coffee Mug Holder
Do you like pallet upcycle projects? If you are looking for a new idea to try, check out this pallet coffee mug holder.
This is a pretty simple pallet upcycle that you do not need a lot of skills to do. One of the longest steps is to sand down the pallet wood. It is a little faster if you use a hand sander and not just sand paper. But if you are someone that rally likes that extra rustic look, you could skip that part if you wanted to.
Ready to get started? Get your supplies together and follow the directions below to make this pallet coffee mug holder.
Supplies Needed:
5/32nd Drill Bit
Tape Measure
1 – 18-inch Piece of Pallet Wood
Drill
Hammer
Pencil
Hand Sander (optional)
5 – ½-inch Hook Hangers
Directions:
First, you want to pull one piece of wood from your pallet using a hammer. Then you want to sand down your piece of pallet wood if desired.  By sanding you do cut down on getting splinters when cleaning or getting a mug. You can use some 80-grit sandpaper if you do not have a sander, but it will take a little longer.
After you have it sanded, use the tape measure and measure one inch in on both ends of the board. Mark it with the pencil.
Now start from one of the marks you just made and measure 4 inches down the middle and mark that with the pencil. Do that three times, so you have 5 marked spots total.
Next, we will use the drill and bit. Drill into each of the marked spots, making sure they are even and centered.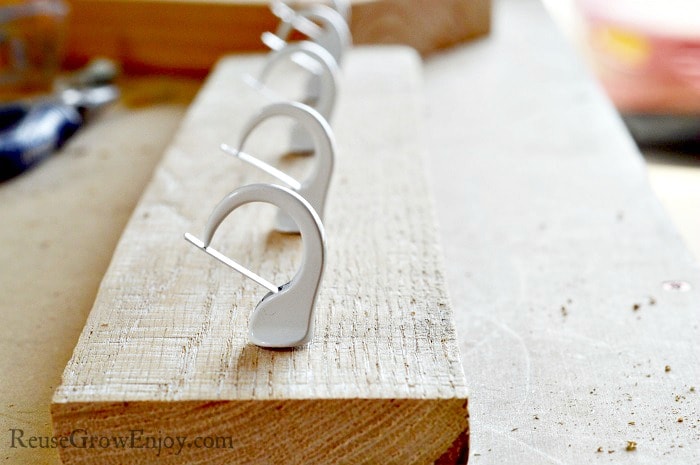 After you have each hole drilled, twist each of the hooks in the holes by hand until they are flush with the wood.
The last thing to do is hang it on the wall! Find the place you want to hang your pallet coffee mug holder,  then attach it to the wall. Screwing it to a stud works best. When you use hangers on the back of it, the weight of coffee cups makes it not very secure.
If you liked this upcycle project, here are a few others you may want to check out.