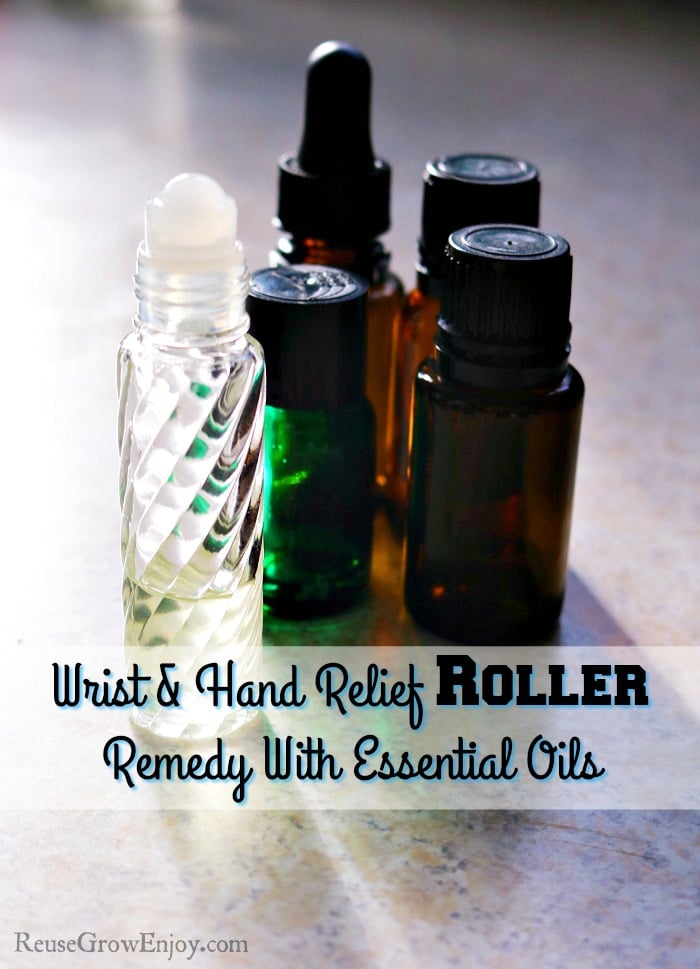 Wrist & Hand Relief Roller Remedy With Essential Oils
Many of us from time to time, especially in this day and age of typing on computers so often, experience issues with our wrists and hands and seek wrist and hand relief.
This all-natural wrist and hand relief remedy is one that has been around for years.
The oils that are in it have many health benefits, and they will be beneficial to your overall balance of mind and body, along with the relief for your hands and wrists.
Lemongrass is great for anything muscular and helps the inflammation to go down. Peppermint brings a cooling relief.
Frankincense does multiple things, but helping to restore and reduce inflammation are two of them. Basil works wonders for pain, and so does marjoram. Lavender calms and is beneficial to the skin as well as being antibacterial.
Putting all of these together in a good carrier oil base is all you need, along with the roller bottle. If you do not have a roller bottle, you can grab them from places like Amazon.
I would suggest as the top choice for the carrier, fractionated coconut oil, as it is nice and thin, with no scent, but you still get the benefits of coconut oil in using it. Otherwise, you can use sweet almond oil or jojoba.
Directions:
Take 1 10 ml sized glass roller ball and put in the following drops of essential oils. Be careful as you count and pour out the drops, as most of these are thinner oils and they can run out of that bottle fast, and you'll get twice the amount you need.
Add in 10 drops each of Basil, Peppermint, and Frankincense. Next, add 12 drops of Lavender and Marjoram and then 8 drops of lemongrass. To top off the bottle with your carrier oil, just fill it to the line where the bottle starts to get skinner and the top would screw on. If you go past that, then when you push in the roller ball, it will likely leak out the top and waste the oils.
Sometimes the roller balls can be hard to get all the way in. I have found that using a washcloth or rag in my hand over the ball, which helps me push hard without hurting my hand or having it slip, really works. Most of them need to click down twice to be all the way on. If there is a gap between the plastic ball piece and the glass bottle, push down again.
Now just shake it up to mix and roll over wrists, and back and front of hands as needed. You can use it a few times a week for a few weeks. Then after you know how it works for you, just use it when you feel a little achiness starting.
If you found this post on Wrist & Hand Relief Roller Remedy With Essential Oils helpful, here are a few other oil posts to check out.
Please note that I am not a medical professional and this post is not meant to replace your medications. As with any health treatment, be sure to consult your doctor before trying anything new.