When you read these handy tips on how to grow strawberries, you will be a strawberry gardening pro in no time at all! Chances are you will have such a high yield, you will have start preserving some because can't eat them fast enough.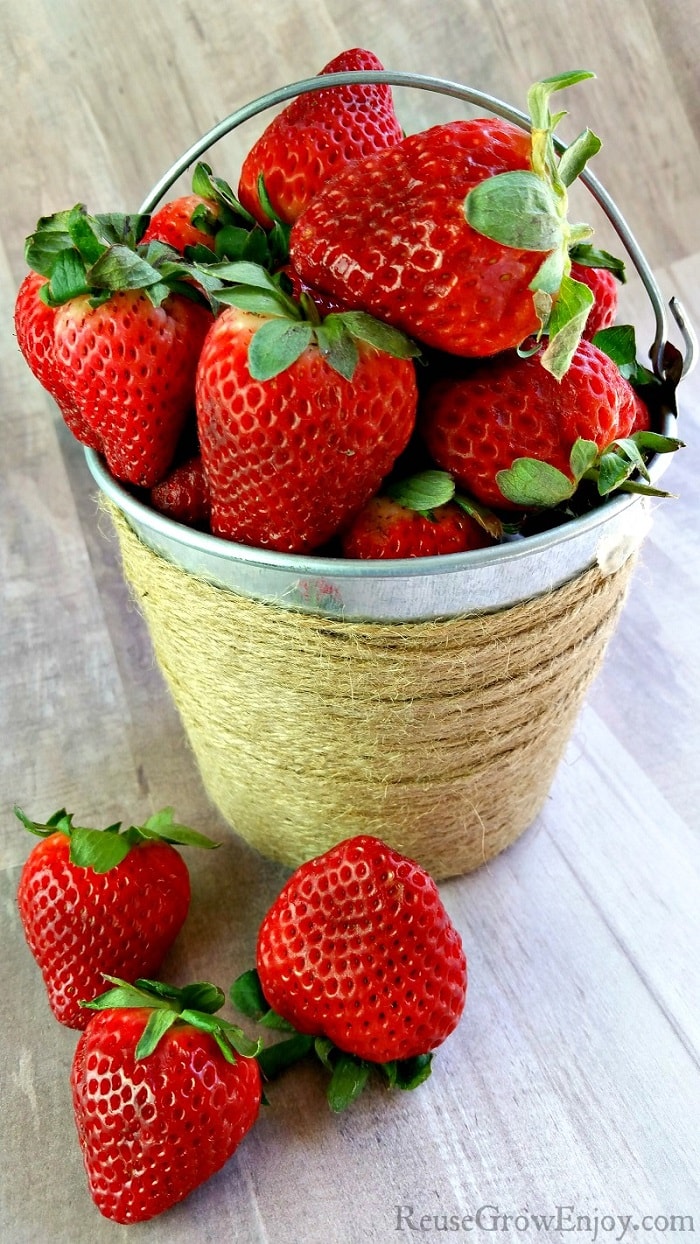 How To Grow Strawberries Amazingly Well
If you love strawberries you know how amazing fresh, plump, juicy, strawberries are. If you have ever tried to grow strawberries you also know they can be a bit of a challenge, from rotting on the ground or ants enjoying them for lunch. The good news is you can grow amazing flavorful strawberries and keep them safe.
When you are ready to start growing it is best to start with strawberry plants. You can do from seed, but it is much easier to just start with plants that are growing.
How To Grow Strawberries
The first step to growing great strawberries is to get them up off the ground. If growing in a garden bed this means Mulch, mulch, mulch so the dirt will not encourage your berries to rot right on the vine before they ever reach maturity.
Or you can also use things called strawberry supports to keep the berries off the ground. Plastic or garden screen also help.
If planting in pots arrange around the edges so that berries will all over the edge of your pots keeping them out of the soil.
Check your berries daily for signs of mold, mildew, and diseases. Strawberries are known for going bad fast. They attract mold and checking them daily can allow you to control the situation before it gets out of hand. With so many risks you need the advantage of time.
Things to look for and what to do.
Root Rot:
Look for signs of sickly, withered leaves. The roots will be red. Sadly there is no way to save this plant and your best bet is to pull it right away and destroy the plant so others do not become infected.
Strawberry Mildew:
Be sure to check undersides of the leaves on your strawberry plant. Strawberries plants that have strawberry mildew will look like it has a reddish tinge. It will also have a fine white film on the leaves.
Leaves may even roll up. Any fruit that does form will be small, hard and not edible. These plants can not be saved and it is best to destroy them leaving room for healthy plants to grow.
Mold:
The strawberry fruit will be covered in thick, gray mold. Pluck these berries and dispose of them so the mold will not spread.
Fertilize:
You should fertilize strawberries every 7 to 14 days with fresh compost or a feed made for tomatoes and other fruiting plants. This will keep your strawberries strong and healthy allowing them to grow plenty of healthy fruit.
Pests:
Another big issue you may face is from pests. In this case ants. Any berry touching the soil will call them from forever away as the ripe juicy berries begin to break down in the soil.
Slugs are great at speeding this up and damaging your berries and inviting ants. Adding coffee grounds to your mulching is a great way to help keep your strawberry plants bug free.
You may find yourself inviting another "pest" into the garden. Many of us love birds around our home but they can become a pest as they steal your fresh ripe berries before you can harvest them.
Bird netting is a great way to protect your strawberries from birds. As berries start to become ripe cover your plants.
If you found this post helpful, here are a few others to check out.